Human Resources in Uruguay are highly competitive due to a combination of several factors, which include the high quality of basic, technical and university level training, flexibility and ease of Uruguayan workers to adapt to new production processes or technologies. The availability of qualified labor force is not a restriction for new investment projects. Furthermore, if necessary, foreign employees can be hired in every activity developed throughout the national territory, with some exceptions where there certain limitations.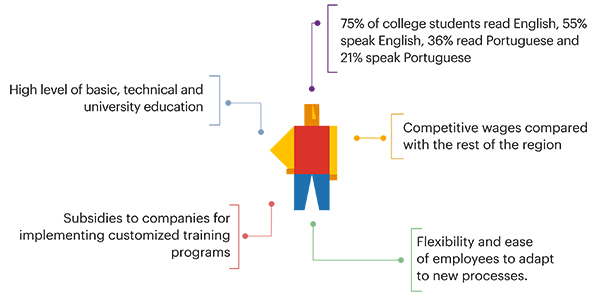 Important human resources firms are established in the country, which can help you select the most suitable members for your company's staff. Also, the State has programs in place which facilitate training and access to labor for different activity sectors. Uruguay XXI is part of these proposals with its Smart Talent and Finishing Schools programs.
Labor relations are individually regulated by detailed laws that constitute one of the bases of Uruguay's rule of law.
Written labor agreements are not mandatory in Uruguay, although it has become an extended practice in the last years. Said agreements may be permanent or temporary. There are several salary fixing mechanisms: individual negotiation with each worker in his/her labor agreement, bilateral negotiation with the execution of bargaining agreements between company and trade unions or tripartite negotiation where the government takes part together with workers and employers in the fixing of minimum wages per category and bi-annual readjustments through the Wage Boards (tripartite entities made up of State, workers and employers' delegates).
Workers' rights include, among others, limited working hours, leaves, wage supplements and severance pay. Moreover, workers are required to join the social security and health system which covers disability, elder, retirement, disease, industrial accident, maternity, unemployment and death risks.