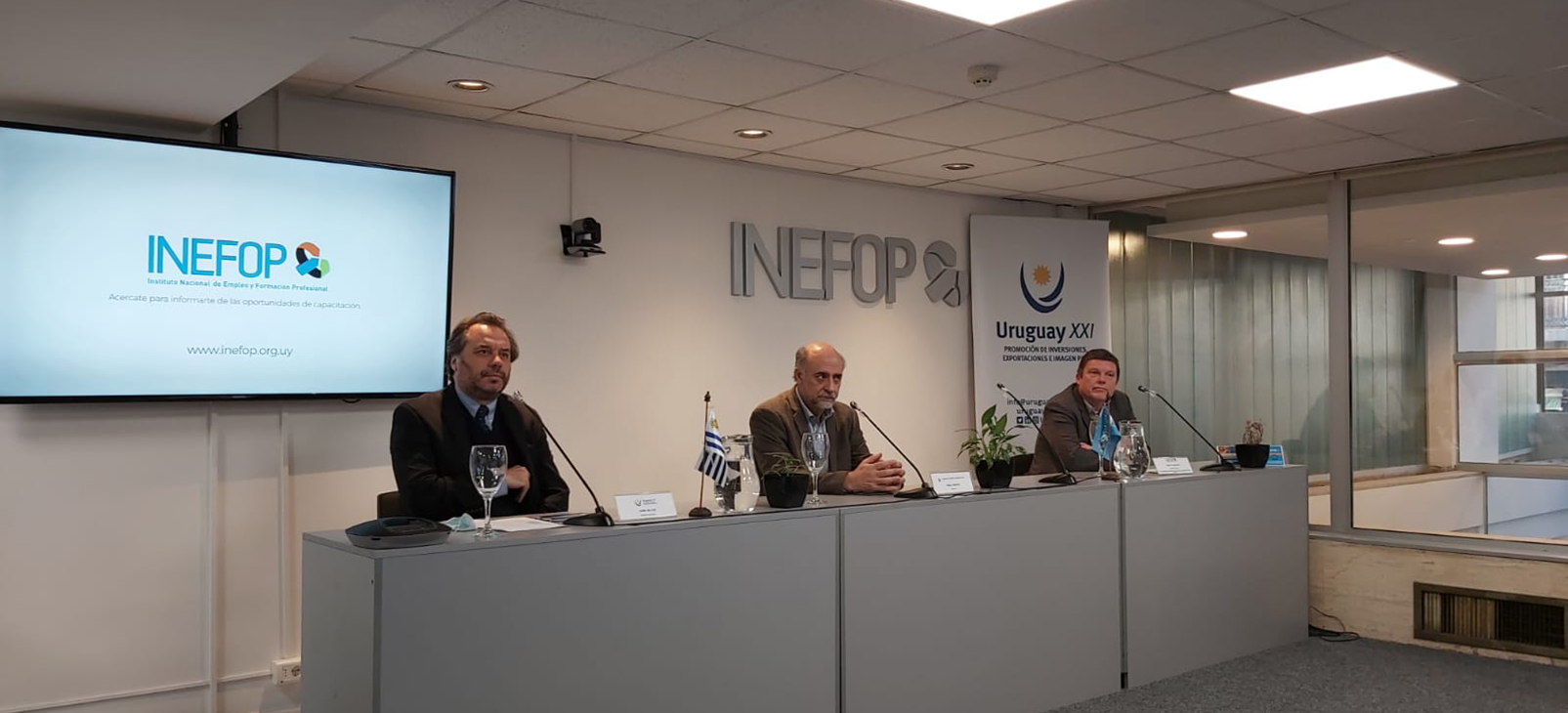 URUGUAY XXI AND INEFOP RENEW AGREEMENT FOR TRAINING PROGRAM IN GLOBAL SERVICES
Fecha de publicación: 04/08/2020
The program sets a goal of training at least 2,500 workers or potential new employees for the beneficiary companies.
The National Institute of Employment and Professional Training (INEFOP) and the the agency for the promotion of investments, exports and country brand, Uruguay XXI, signed an agreement to give continuity to the Finishing Schools program, which supports the training of global service companies. 
In 2016 the first agreement was signed with INEFOP and since then more than 200 courses have been implemented and 6,500 people have been trained in skills required by global services companies. The new agreement will last up to two years, with six-monthly renewals.
As of 2012 Uruguay XXI began managing the Finishing Schools program with the support of the Inter-American Development Bank (IDB). The program provides training to companies installed in the country that export services in the information technology, corporate services, life sciences, architecture and engineering sectors.
This tool finances on a non-reimbursable basis up to 70% of the costs of on-demand training plans for companies, in specific and transversal skills.
The agreement was signed this Tuesday at INEFOP's Assembly Hall and was attended by the Minister of Labor and Social Security Pablo Mieres, INEFOP's General Director Pablo Darscht and the Executive Director of Uruguay XXI Jaime Miller. 
"This agreement is a direct expression of the articulation between vocational training and investment. We need to put a lot of focus on proposals that give answers as quickly as possible," said Mieres.
The executive director of Uruguay XXI, Jaime Miller, explained that Uruguay is competing at the highest level in attracting investment in services and referred to the importance of continuing to strengthen the skills and talent of this sector.
"Today, the service sector covers some 2,500 companies and employs about 25,000 people. Twenty-one percent of Uruguay's exports are global services, a growing industry," he said.
"From Uruguay XXI we know the industry and we know the companies. This is a tool that serves us to attract investment and also helps that, once the company is installed, it can export more", he concluded.
For his part, Darsch stressed the importance of the convergence of the two organisations, one dedicated to attracting investment and the other to professional training for employment. 
"Having partners with concurrent institutional visions and agreements of this size makes each institution advance in its missions. These are partners who identify gaps in the labor market and work to close them," said the director of INEFOP.
*Due to the preventive measures adopted by the health emergency, the activity was broadcast by streaming and is available on the YouTube channel INEFOP Uruguay. 
All about Finishing Schools here. 
Palabras clave: