The Uruguayan publishing industry has a long tradition in both, literature and the press. The maturity of the sector is reflected in the experience and commitment of its human resources, as well as in the quality of its publications and the low piracy rates recorded. Uruguay is the country in the region where most people read and the one with the highest book production per inhabitant in Latin America.
In this context, the industry managed to position authors on the regional and international scene, which are distinguished by the originality and uniqueness of their productions. Proof of this is the expression "los raros" (the weirdos) which identifies Uruguayan authors of all generations that are currently part of the international literary canon.
Independent publishers, with a long tradition in Uruguay, encouraged the emergence of new generations of writers. Also present in the country are the main groups in the world that commercialize international titles, as well as publish Uruguayan authors.
In recent years, the Uruguayan market has registered a notorious dynamism in the segment of children's and young people's literature, which now represents 20% of Uruguayan book sales and is considered the new boom in national literature.
Juan Carlos Onetti, Mario Benedetti and Eduardo Galeano are some of the most translated and internationally recognized Uruguayan authors.
Outstanding cases
Uruguay has a recognized literary tradition and fundamental figures in Latin American literature such as Juana de Ibarbourou, Delmira Agustini, Idea Vilariño, Felisberto Hernández, Horacio Quiroga, Mario Benedetti, Eduardo Galeano, Mario Levrero, and in particular Juan Carlos Onetti, winner of the prestigious Cervantes Prize in 1980.
In the contemporary scene, Tomás de Mattos, Ida Vitale, Mario Delgado Aparaín, Gustavo Espinosa, Carlos María Domínguez, Rafael Courtoisie, Felipe Polleri, Mercedes Rosende, Mercedes Estramil, Claudia Amengual, Pablo Casacuberta, Damián González Bertolino, Valentín Trujillo, Daniel Mella and Circe Maia, among others, stand out for their international publications and awards.
In the field of comics, Uruguay also has outstanding cases such as Eduardo Barret, illustrator of Batman and Robin for DC Comics, or Hermenegildo Sabat and Hogue. In the most recent scene, Matías Bergara, Richard Ortiz, Daniel González and the writer Rodolfo Santullo have positioned themselves. Uruguayan illustrators Fran Cunha and Dani Scharf took part in the official selection of the International Illustration Prize awarded by the renowned Bologna Children's Book Fair and the SM Foundation, becoming the first Uruguayan illustrators to take part in this prestigious selection.
Successful international sales cases
The books linked to the 1972 plane crash of a Uruguayan rugby team, "Miracle in the Andes", "The snow society" and "I had to survive", have sold more than 300,000 copies in total and have been translated into more than 12 languages. They are also part of The New York Times' list of best sellers.
A similar phenomenon is represented by the titles of former Uruguayan president José Mujica "Una oveja negra al poder: Confesiones e intimidades de Pepe Mujica" by Andrés Danza and Ernesto Tulbovitz, or the biography "Mujica" by Miguel Ángel Campodónico, with sales that exceed 200,000 copies in Uruguay, Turkey, Argentina, Brazil, Chile, Colombia, Korea, Japan, Spain and Mexico.
In children's literature, stand out the more than 500,000 copies sold by Roy Berocay in Mexico and Argentina in editions of "El Sapo Ruperto" and "Pateando Lunas" and Cecilia Curbelo, with books registering sales of more than 85,000 copies in Uruguay, Argentina, Chile, Costa Rica, Colombia, Guatemala, Mexico and Panama.
In fiction, in addition to the classic Uruguayan bestsellers, the writer Carlos Domínguez stands out, whose novel "The paper house", has more than 200,000 copies sold and was translated into 30 languages.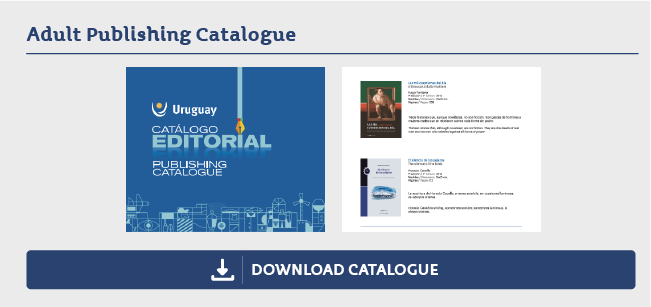 Looking to contact with producers of publishing in Uruguay?
In Uruguay XXI we coordinate meetings with local counterparts, free of charge and personalized, according to the needs and interests of your company.
We also generate agendas with business meetings and link the exporters of these products with those interested in buying them.
Contact us