Test & Invest Uruguay Business Summit
1 to 4 November 2022
Información
The Inter-American Development Bank (IDB) and Uruguay XXI invite you to the first edition of the Test & Invest Uruguay Business Summit, to be held on November 1-4, 2022 in Montevideo and Punta del Este.  
This summit aims to position Uruguay as a business and innovation hub in Latin America. The event will feature presentations by international experts on cutting-edge topics in four strategic sectors: ICT, biotechnology, renewable energies, and audiovisual services.  
In addition, one-on-one business meetings between companies (public and private) and international investors will be promoted. There will also be free training on the adoption of new technologies and entrepreneurship given by internationally renowned institutions such as Newlab, Digital House, and New York Film Academy.  
During the forum, there will be an exhibition highlighting the technologies being developed in Uruguay and other Latin American and Caribbean countries, such as the metaverse, Internet of Things, artificial intelligence, virtual and augmented reality, among others, and their respective applications.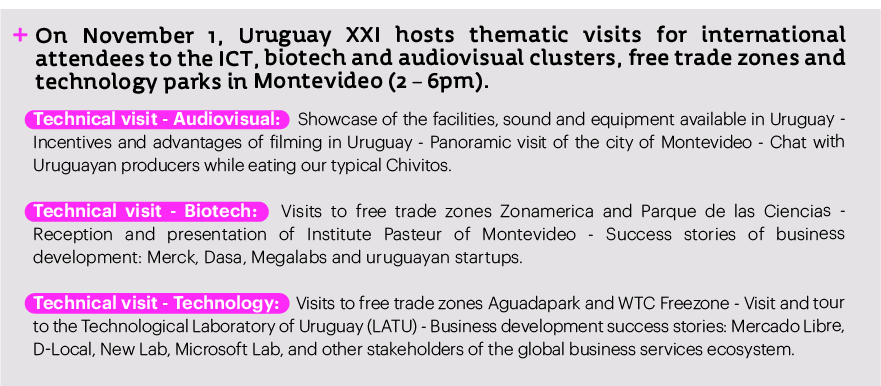 Learn more about the event and register before October 21. 
If you have further investment inquiries, please contact us at invest@uruguayxxi.gub.uy
Lugar del evento

Punta del Este, Uruguay