VENTURE CAPITAL LATAM SUMMIT
27 to 28 October 2021
00:00 hs.
Información
The Private Equity and Venture Capital Associations of Argentina (ARCAP), Brazil (ABVCAP), Chile (ACVC), Colombia (COLCapital), Mexico (AMEXCAP), Peru (PECAP) and Uruguay XXI are organizing a series of events to promote Latin America as a dynamic region for VC. With more than 150 managers and investors already registered from 10 nationalities, it will take place in Miami on October 27-28 to discuss the opportunities that LATAM offers.
Uruguay XXI is co-organizing with the aim of presenting the region as a dynamic place for Venture Capital Funds (VC).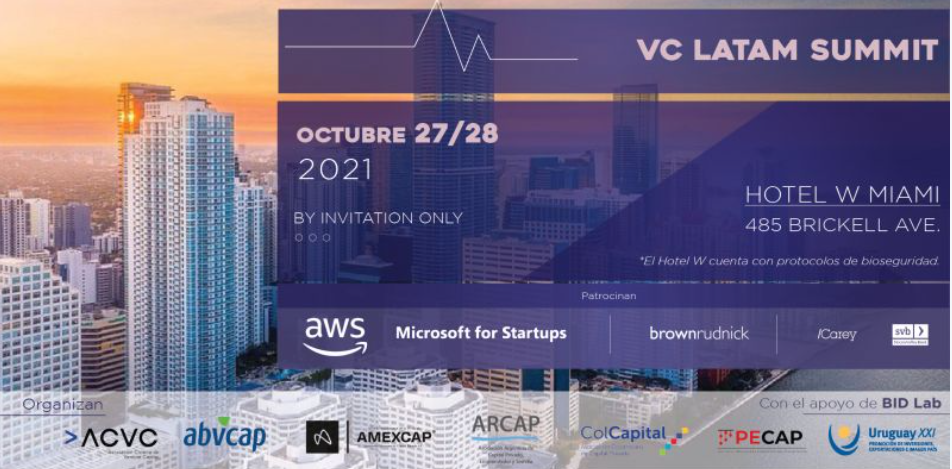 27/10
- VC LATAM Lunch - 1PM - For LPs only.
- VC LATAM Night - 6PM - Only for LPs & GPs
- CAREY PARTY - 9.30PM - For LPs & GPs - By Invitation Only
28/10
- 11AM - Microsoft for Startups the Miami LATAM connection | BRUNCH. For LPs, GPs & Startups only - By Invitation Only
- 6PM - AWS VC LATAM DEMO DAY: For LPs, GPs & Startups
- By invitation only, please write to invest@uruguayxxi.gub.uy
Lugar del evento
Hotel W
Miami, Estados Unidos