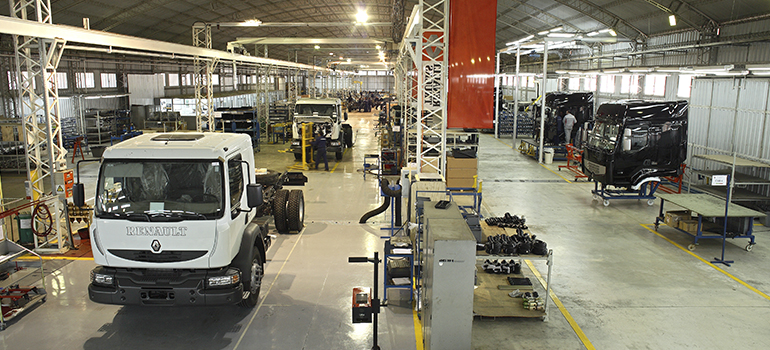 INVESTMENT OPPORTUNITIES: AUTOMATIVE SECTOR AND AUTOPARTIST
Fecha de publicación: 30/10/2017
Uruguay has extensive experience in vehicle assembly and auto parts manufacturing. Several vehicle assembly plants and auto parts manufacturers, both national and foreign capitals, have been installed in the country.
The automotive sector is considered one of the most globalized sectors in the world economy and Uruguay is not the exception. Currently, more than 45 companies are operating, several of which have international quality certification.
In 2016, the total exports of the sector reached US $ 203 million, of which 87% corresponds to the auto parts sector and the remaining 13% to the sale of vehicles. The destination of exports was 90% to the South American continent, which is explained by the economies of scale of the companies installed in the country. The most extraregional destinations that stand out are Germany and Poland, where they are sent mainly hides cut in mold for upholstery.
Although the production of vehicles in Mercosur has been on a downward trend in recent years, both production and sales in the first half of 2017 give encouraging signs for Uruguay. In this period, sales were 33% higher than in the same period of 2016 and accumulate 8 consecutive months of growth. The increase in auto loans was 31% compared to the first half of 2016.
The country has several trade agreements and investment protection agreements that link it with different countries. In particular, Uruguay can export to Brazil and Argentina with a tariff of 0, as long as a set of conditions is met. In addition, it has a set of legal regimes and rules (free zones and temporary admission, among others), and VAT reimbursement on the importation of inputs. As a result, they were able to attract foreign companies, which produce and sell in Uruguay, as well as distribute regionally.
Regarding investments in the country, Uruguay is among the first recipients of Foreign Direct Investment (FDI) in South America (5.3% of GDP) in the last decade. The automotive sector was not seen outside of this, attracting investments of companies of the first line such as General Motors, Ford, Fiat, etc. Recently Asian companies began to produce vehicles in the country, accessing an expanded market of more than 400 million people.
In recent years, there have been dynamic investment processes by manufacturers. As an example, Nordex made an agreement with Kia Motoros to produce light trucks and with PSA (Peugeot - Citroën), which from the second half of 2017 assembles the Peugeot Expert and Citroën Jumpy utility vehicles.
Check the full report here