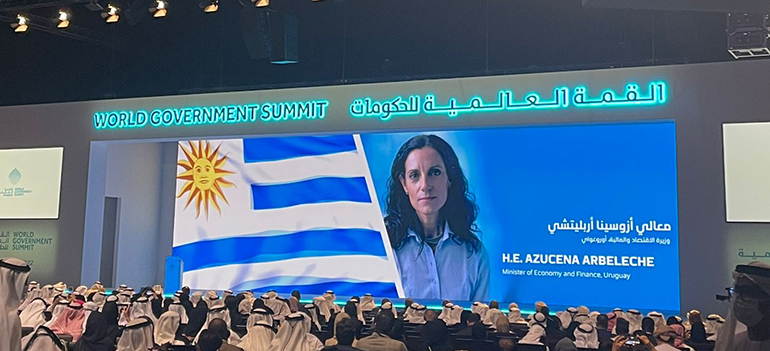 MINISTER OF ECONOMY AWARDED AS BEST STATE MINISTER
Fecha de publicación: 31/03/2022
The World Government Summit Organization distinguished the Minister of Economy and Finance Azucena Arbeleche as the best minister of state, highlighting the excellence in her performance in the public sector and leadership at international level.
During the annual meeting held in Dubai, the World Government Summit Organization awarded Azucena Arbeleche the prize for the best Minister of State at the global level, in recognition of her excellence in public sector performance and leadership at the international level. She was singled out for "designing and implementing successful, scalable and sustainable initiatives for the socio-economic betterment of her citizens" and for "inspiring and leading other government leaders to promote innovation and foresight in the global issues of today and tomorrow".
The World Government Summit Organization (WGSO) is a global, neutral, non-profit organization dedicated to shaping the future of government. The summit, in its various activities, explores the agenda for the next generation of government, focusing on harnessing innovation and technology to solve the universal challenges facing humanity.
The WGSO Best Minister Award recognizes exceptional efforts by government authorities to demonstrate excellence in the public sector, design and implement successful, scalable and sustainable initiatives for the socio-economic betterment of their citizens, and inspire and lead other government leaders and service providers to promote innovations and foresight on the global issues of today and tomorrow.
To select who will receive the recognition, a group of 194 countries is selected, and the international transparency corruption perception index; global governance indicators; the human development index and the happiness index are evaluated. Among the 53 pre-selected countries, the ministers were evaluated based on eight dimensions: social impact, economic impact, outreach, foresight, innovation, leadership, scalability and sustainability.
After the award ceremony and consulted by Khaleej Times, one of the main media outlets in the United Arab Emirates, Minister Arbeleche informed that "this award is a recognition of my whole country and a recognition of what we have done to face the pandemic in these two years," she said. The minister added that it is also "a recognition of the agenda that we are promoting in terms of a long-term perspective".
She was then asked about the importance of addressing the problems linked to climate change, given that the world's attention at the moment is focused on the strong geopolitical tensions.
Arbeleche indicated that "the long-term agenda is very important, as it is not just about navigating the pandemic, but also about having the long lights on so that we look at the important issues today and in the future. And one of those issues is the environment.
So I think now is the time to incorporate environmental issues into public policy in general, and into economic policy in particular," the minister stressed.
Source: Presidency
Image: Presdencia