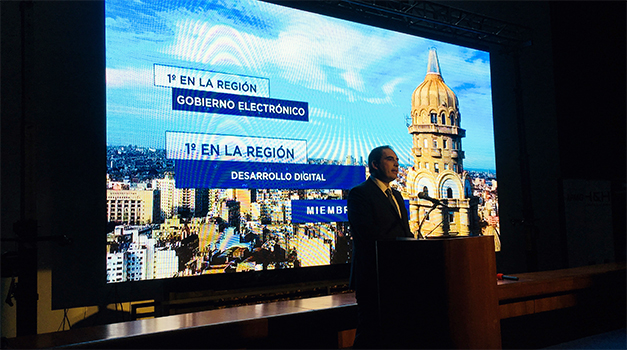 MONTEVIDEO HELD A NEW FINTECH FORUM
Fecha de publicación: 29/08/2018
The second edition of the Montevideo Fintech Forum, the most important international congress on Finance and Technology in Uruguay, was held in the blue room of the Municipality of Montevideo.
UruguayXXI supported the second edition of the Montevideo Fintech Forum, held this year under the slogan #FintechUnitesPeople for sustainable development. It brought together more than 15 experts from 12 countries who shared their experiences and showed how technological innovation revolutionized the world of finance, allowing more access to financial services and generating improvements in people's quality of life.
Uruguay XXI is strengthening these instances by promoting the country through a growing and consolidated IT ecosystem that offers an optimal terrain for the development of the Fintech industry.
The activity brought to the table topics such as digital transformation, blockchain, artificial intelligence, big data, crypto-currencies, lending, financial inclusion and the role of women in the tech world, among others.
The opening was in the hands of the Undersecretary of Economy and Finance of Uruguay, Pablo Ferreri, who stressed that "we are facing a new technological revolution, where being a small country will not be a weakness but a great advantage". He added that Uruguay is part of the leading D7 group, one of the most digitalized countries in the world, and that the event is a sign of the quality of talent and the booming ecosystem that leads the industry to create disruptive technologies that make financial inclusion a reality.
Among the international speakers presented were Facebook data scientist and founder of Women of Startup Nation, Barr Yaron (Israel), the director of international expansion at Revolut - one of the world's largest digital banks, with more than two million clients -, Magdalena Ramada, Director of Insurance and Technology Consulting at Willis Towers Watson, where she leads the research and development area focused on #insurtech; Alexander Petrov (Russia); and the founder of the Fintech Mexico Chamber of Commerce and reference of the Fintech Law, pioneer in the world, Jorge Ortiz.
Montevideo Fintech Forum, organized by Impacta, innovation & sustainability, was declared of interest by the City of Montevideo and was supported by the Uruguayan Chamber of Commerce of Fintech and the Latin American Fintech Alliance, in addition to Uruguay XXI.
During the last six years Uruguay XXI, through the Global Services Program, has generated support to strengthen the development of ICT conferences in Uruguay, facilitating the presence of international references, as well as the promotion of the development of training and networking activities, positioning Uruguay as a reference in the ICT industry in the region and the world.
Palabras clave: