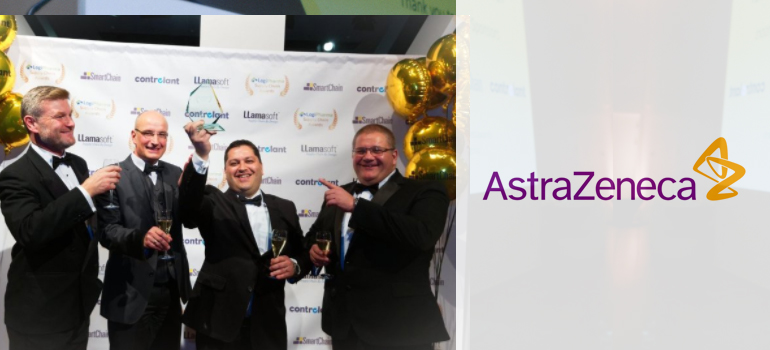 ASTRAZENECA RECEIVES PRIZE IN LOGI PHARMAAWARDS 2017
Fecha de publicación: 16/12/2017
The global pharmaceutical company, based in London, develops a high-level logistics operation from Uruguay that won an award and a special mention in the prestigious LogipharmaAwards 2017. It is one of the leading pharmaceutical companies worldwide, dedicated to the discovery, development, manufacture and commercialization of prescription drugs with a high added value to improve the health and quality of life of patients throughout the world.
AstraZeneca HUB Uruguay won the prize in the category of "Global Temperature Control" as well as a very special mention in the category of "Best Distribution Network Strategy". This award recognizes those organizations that implement innovative and cost-effective solutions to maintain critical temperatures in the supply of products sensitive to global temperature.
We spoke with AstraZeneca to learn a little more about their operations in Uruguay
Uruguay Smart Services: What business do you develop from here?
AstraZeneca: The company developed a logistics operation to supply finished products imported to Brazil. The products pass through Uruguay, after international travel for air and maritime manners and then are consolidated in trucks for land travel to the Cotía plant in the state of SP-Brazil.
Uruguay Smart Services: How many people does it involve?
AZ has the support of its local subsidiary and involves many local suppliers such as dispatchers, carriers, freight forwarders, terminals and the warehouse in the free airport, where all cargoes are received, subjected to quality control and ready to be shipped to its final destinations.
Uruguay Smart Services: Why do you think they have won this prize?
AstraZeneca: Because the project delivered important results to the AZ operation. Travel times are very stable, damages and breakdowns in the boxes were reduced and temperature excursions were greatly reduced. That is why we were invited to submit the project to these 2 categories (Global Temperature Control and Best Distribution Network Strategy), winning in the last one. On Thursday, November 9 in Stuttgart (Germany) the award ceremony was held.
Uruguay Smart Services: Why Uruguay, what advantages does it offer?
AstraZeneca: Uruguay offers a very favorable legislation to this type of operation, a political and legal stability as well as a workforce and qualified people, with an open mind to contribute in projects like this.
Uruguay Smart Services: How Uruguay became an option to analyze for the company?
AstraZeneca: Operational benefits (such as the Free Zones Law or the Puerto Libre Law) in Uruguay are known by various industrial sectors (especially in Brazil). The key point for AZ was really visiting the country and its infrastructure, understanding the application of the laws talking to the people and always counting on the fundamental support of our local office.
For Uruguay it is a pride to be able to count on this type of high value projects that represent high management standards at the international level.