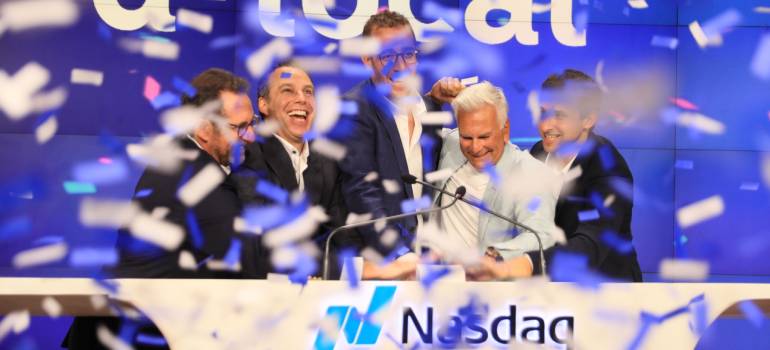 URUGUAYAN FINTECH DLOCAL LISTS SHARES ON NASDAQ
Fecha de publicación: 03/06/2021
It is the second company in the country to go public on the New York Stock Exchange. This achievement reflects the potential of the digital services sector in Uruguay.
In October 2020, Uruguayan fintech dLocal became the first Uruguayan unicorn -a qualification that emerging companies receive when they exceed a valuation of USD 1 billion-, and today its shares began trading on the New York Stock Exchange.
It is the second Uruguayan company to reach this milestone. Its predecessor StarMedia achieved it in 1999.
"The IPO, under the code DLO, was made through an IPO (public offering), whose high demand in the previous day raised the placement price from the 16-18 dollars initially expected to 21, so that the company would add some 617.4 million dollars and its value would be around 6,150 million, as reported at the opening of the Nasdaq session", reported EFE agency.
According to information published today by the Uruguayan newspaper El País, "at the bell ringing that marked the beginning of the listing of its shares on Nasdaq, located in Time Square, the co-founders, Sergio Fogel and Andrés Bzurovski, together with Jacobo Singer (president), Sebastián Kanovic (CEO), and the investor Eduardo Azar, were present".
The firm dLocal, founded in 2016 and specialized in developing payment solutions for companies seeking to set up in emerging markets, applying technology and providing a tailored response to customer needs, is present in twenty countries and provides solutions to clients such as Uber, Netflix and Amazon. On September 15, 2020, dLocal was valued at USD 1.2 billion, after raising USD 200 million from General Atlantic and Addition Capital.
dLocal operates from its headquarters in Montevideo and has offices in Israel, China, Malta, Sao Paulo and San Francisco. Its achievements in the last year illustrate the dynamism of the Uruguayan technology sector and its potential as a provider of digital services to the world.
Learn more about dLocal and about Uruguay as a business and technology hub.
Palabras clave: