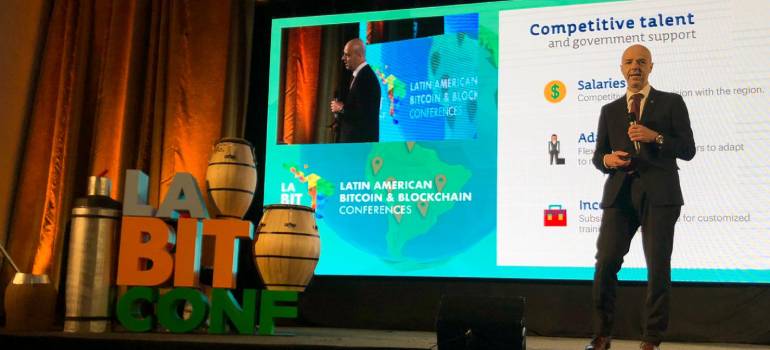 THE MAIN CONFERENCE OF CRYPTO CURRENCIES IN LATIN AMERICA WAS HELD FOR THE FIRST TIME IN URUGUAY
Fecha de publicación: 20/12/2019
References from the crypto currencies industry from more than 20 countries were present at LA Bit Conf 2019.
With the support of the investment, export and country brand agency, Uruguay XXI, the 7th edition of LA Bit Conf was held at the Radisson Victoria Plaza Hotel in Montevideo between Thursday 12 and Friday 13 December. During the conference, more than 80 international speakers and industry players from more than 20 countries presented their products and services.
The executive director of Uruguay XXI, Antonio Carámbula, welcomed the most important conference in Latin America about bitcoin and blockchain. He highlighted the investment potential that Uruguay has and its opening to the world of cryptomonies. One of the main speakers was the Greek-British Andreas M. Antonopoulos, defender of the bitcoin and professor in the master's program of digital currency at the University of Nicosia.
In addition to the conference there was a fair, in which Uruguay XXI exhibited its stand with specialists in the sector, who presented Uruguay as a tourist destination and strategic for the development of investments and business.
LA Bit Conf is an initiative of the Bitcoin Association of Argentina that began in 2013 with the objective of exposing the potential of blockchain and crypto-currency technology, a new but rapidly growing industry. Since then, this conference has been held in different Latin American countries.
Palabras clave: