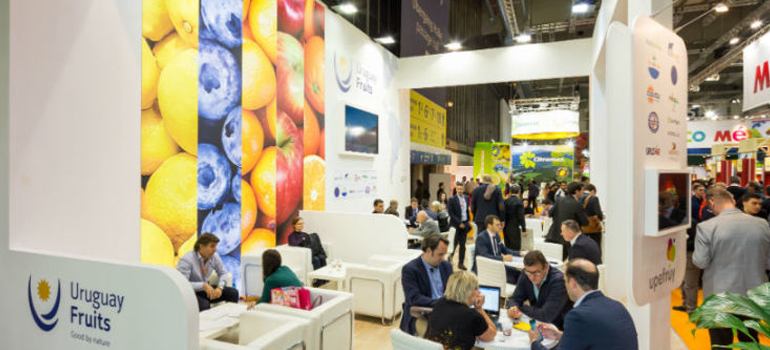 POSITIVE EVALUATION OF FRUIT LOGISTICA
Fecha de publicación: 28/02/2018
With its exportable supply of citrus and blueberries, Uruguay participated in FruitLogistica in Berlin for the tenth consecutive year. The fair, which took place from 7 to 9 February, brings together the leading exponents and buyers of the sector, with the coordination of Uruguay XXI, the Union of Fruit Growers and Exporters of Uruguay (Upefruy) with the support of the Embassy of Uruguay In Berlin.
"This fair is the most important in terms of fruit at the international level and it brings together all the relevant players and players: exporters, importers, intermediaries, journalists, distributors, logistics entrepreneurs. For this reason, the presence of our fruit export companies (blueberries and citrus fruits) accompanied by Uruguay XXI is essential, "said the Ambassador of Uruguay in Berlin Gabriel Bellón.
Under the Uruguay Fruits sector brand, 9 Uruguayan companies were present at the stand: Azul Sereno, Gamorel and Blue Forest (blueberries), Citrícola Salteña and Forbel (citrus and blueberries), San Miguel, Noridel, and Urud'or (citrus), and Rossi Cargo (freight transport).
"We evaluated the participation in FruitLogistica as very positive. We participate in the fair because it is a place where we can meet with our customers from different parts of the world, meet potential customers, suppliers and exchange information with other operators in our industry, "said Francisco Rivoir of the company Forbel, citrus exporter.
"It is a fair that brings together many visitors from all markets, it takes place at a very opportune time of the year, since it is only a few weeks before the season starts," said Monica Coito de Naranjales Guarino, adding that "this allows us to go probing the market situation, how are the productions of the United States, Morocco, Spain, etc., as well as getting to know the needs of our customers to be able to elaborate the cargo plans for each destination".
Coito evaluated the participation in the fair as excellent. In this regard he said that they could meet almost all their customers, with whom they evaluated the previous season and discussed future plans. In turn, he indicated that they had many queries for Uruguayan citrus by new clients. "Every year there is a greater presence in the stand of buyers from the United States and China, markets that have opened recently to our citrus," he said.
For his part, the Ambassador of Uruguay in Berlin commented that it should be noted that there is room for growth and that will have much to do with an eventual Free Trade Agreement with the European Union. In 2017, Uruguay exported more than 108 thousand tons of fruits worth over US $ 95 million to 40 countries. According to the German Federal Statistics Office (Destatis, StatistischesBundesamt) during 2017, and until November, the Saxon country bought about US $ 5.6 million of fruits to Uruguay, mainly citrus and blueberries.
Palabras clave: