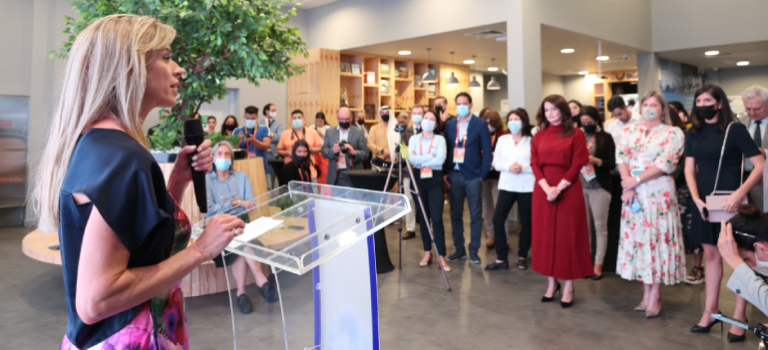 SEMBRANDO PROGRAM INAUGURATED STAND AT DUBAI EXPO 2020
Fecha de publicación: 20/12/2021
Lorena Ponce de León, who leads the program to promote entrepreneurship in Uruguay, participated in the activity.
The wife of the Uruguayan president, Lorena Ponce de León, inaugurated at Expo Dubai 2020 a stand of the Sembrando program, which aims to strengthen entrepreneurial initiatives in the country. In addition, she participated in the opening of the door of the sustainability district within the exhibition, an iconic event of which prominent guests are part every day.
On this occasion, the Sembrando program exhibited products of exclusive Uruguayan design in materials such as leather, wool and amethysts. In addition, they brought saddlery products, highly valued by the United Arab Emirates (UAE) given their interest in horses. Everything was handmade by craftsmen of the highest level.
Some of the entrepreneurs who participated in this opportunity were Costumbres Uruguayas, Emaxs, Carolina de Cunto, Uruguay Minerals, Opi Rubio, Percibal, San Jorge, Manuelita Ponce de León, Somos India, PDG, Linda Mía, Amapola and Pablo Rigali Arte en cuero.
UAE businessmen and authorities, potential investors and members of diplomatic delegations also attended the inauguration, together with the Uruguayan delegation headed by the Uruguayan ambassador to the UAE, Álvaro Ceriani, the executive director of the investment, export and country image promotion agency, Uruguay XXI, Sebastián Risso, who is also the curator of the Uruguay pavilion at the exhibition, and the undersecretary of Tourism, Remo Monzeglio, among others. The event was closed with a cocktail reception and a show of tango, dance and music representative of the Río de la Plata.
Sembrando is a program of the Presidency of the Republic that is part of a policy of decentralization and territorial development. It seeks to strengthen entrepreneurial initiatives through training and spaces for sharing experiences, creating and promoting income-generating enterprises, as well as developing micro, small and medium-sized enterprises throughout the country.
Ponce de León's official agenda included an official visit to the host country's pavilion and an audience with the United Arab Emirates Minister of State for International Cooperation and general director of the exhibition, Reem al Hashimi.
Palabras clave: