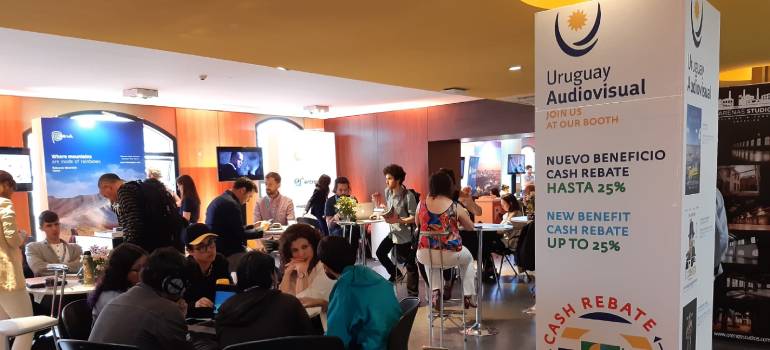 URUGUAY AUDIOVISUAL HAD AN OUTSTANDING PRESENCE IN THE MOST IMPORTANT EVENT OF THE AUDIOVISUAL SECTOR IN LATIN AMERICA
Fecha de publicación: 20/12/2019
Between Monday 2 and Friday 6 December, Uruguay participated with a country stand at Ventana Sur 2019.
Within the framework of the audiovisual sector's internationalization strategy of the audiovisual sector, the investment export and country brand promotion agency and country brand, Uruguay XXI, together with the Uruguayan National Film and Audiovisual Institute (ICAU), the Ministry of Industry, Energy and Mining (MIEM) and Montevideo Audiovisual coordinated Uruguay's participation with a country stand located in the event's premises in Puerto Madero, Buenos Aires.
In order to attract international producers, participation in this market represented a great opportunity to showcase the incentives of co-producing and filming in Uruguay. The publication of the Uruguayan audiovisual production catalogue "Panorama 2019", which was supported by Uruguay XXI, is another initiative to achieve this goal.
During the event, more than 60 Uruguayan producers and institutions had the opportunity to hold business meetings, participate in conferences, and access tools for the growth of their business and information on industry trends and good practices.
Within the framework of this experience, five national producers (La Productora, Cimarrón, Salado, Metrópolis and Rock and Samba) arranged a meeting with the American media conglomerate, VIACOM. The first contact occurred when Uruguay XXI, in an exploratory mission, participated in the MIP Cancun television conference program, which took place in November 2019.
In addition, the following national productions were shown at Ventana Sur: "El campeón del mundo" by Federico Borgia and Guillermo Madeiro from the Montelona Cine production company, "Así habló el cambista" by Federico Veiroj from the Uruguayan production company Oriental Features, "Porno para principiantes" by Carlos Ameglio from the production company Salado Media and "Malamadre" by Amparo Gonzalez Aguilar from the production company U Films.
Ventana Sur
With 39 countries represented, 3478 people accredited, 41 conferences, 314 films in the video library, nearly 150 projections in rooms equipped with large screens and more than 500 buyers and sellers from all continents, Ventana Sur is the most important market for audiovisual content in Latin America.
It is organized by the National Institute of Film and Audiovisual Arts (INCAA) and the Marché du Film - Cannes Film Festival. It seeks to promote Latin American contents of all genres (fiction, documentary, animation, fantasy and queer Latin American films) and formats. It is a great platform that makes possible the meeting between distributors and buyers of the international industry and represents an important instance of networking in the region.
Palabras clave: