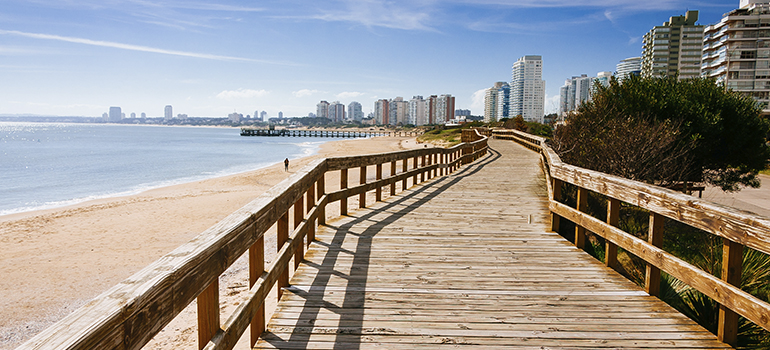 URUGUAY IS RECOGNISED FOR ITS QUALITY OF LIFE
Fecha de publicación: 30/08/2018
Uruguay has long been a symbol for peace and pacific coexistence in Latin America.
Uruguay has long been a symbol for peace and pacific coexistence in Latin America. It stands out for being egalitarian, for being a leader in social inclusion, and in spite of its small population--only 3.4 million inhabitants--, for being consistently at the vanguard. Lying on the Atlantic Ocean, close to but and at the same time buffered from the tumultuous cities of the continent, it's a gateway to the south of the Americas.
Uruguay is also recognised for its openness towards immigration. Not only do foreigners choose Uruguay for its outstanding characteristics, but the country is quick to welcome them without discrimination and with immigration reception policies that are more and more agile by the day.
But this isn't everything about the country that attracts more tourists per year than it has inhabitants. Uruguay has positioned itself as one of the top-ranked countries in terms of reliability - the fruit of a long tradition of solid institutions and policies. In Latin America it's number one in democracy, prosperity, equality, transparency, anti-corruption and quality of life.
Social and political stability, alongside unbroken economic growth over the last fifteen years, has turned this South American gem into a ideal place to live, work and to invest in.
The capital Montevideo is a placid city overlooking the mighty River Plate. The 'sea' as the locals refer to it is bordered by a charming strip of beaches and twenty plus miles of promenade. No wonder the Mercer Ranking (2018) named it the city with best quality of life in Latin America. But the whole of Uruguay, with its rolling countryside, pristine beaches and Colonial heritage, offers the chance for a peaceful, laid-back lifestyle.
The city of Punta del Este deserves a whole chapter in itself. This glamorous 'pearl of South America' and centre for luxury tourism is a first-class place to live thanks to excellent facilities, including top-tier health services and education. In Punta del Este, you've got the jet set, exuberant beaches, majestic oceanside estates, shows and casinos.
Those who choose to live in Uruguay love its genial climate, not just the actual temperatures, but the warmth and kindness of its people and the peaceful, relaxed lifestyle. This well-being is backed up by economic advances.
The World Bank has recognised it as the country with the biggest middle class in Latin America proportionally. A characteristic that has been tradition of this territory throughout its history. As an investment-grade country, backed by the most prestigious credit rating agencies, Uruguay has positioned itself as a trustworthy and attractive destination for foreigners who decide to set up business there thanks to its good macroeconomic performance and investment-friendly environment. People and corporations can settle in Uruguay without fulfilling any previous requirements or special permits from the government. Uruguay now has the highest GDP per capita in Latin American country and the World Economic Forum lauded it as the most equal Latin American country.
Today the rankings confirm it is the most egalitarian country in Latin America, having reduced its poverty levels drastically in the last fifteen years and improved income distribution.
Uruguay has typically been at the vanguard throughout its history. Its highly-skilled talent pool is the result of a long time history of free, state sponsored education up to university level. And now it's the most egalitarian country in Latin America when it comes to Internet access. Its plans Ceibal and Ibirapita provide laptops to children and tablets to retirees respectively, and are examples to the world. On the matter of public health, everyone has the right to medical assistance from the state in Uruguay. The recent National Integrated Health System and the National Care System take care of low-income seniors, the under-threes and people with severe disabilities.
Palabras clave: