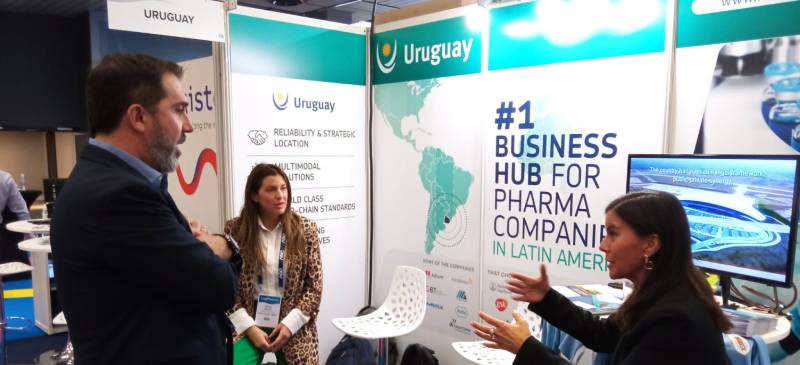 LOGIPHARMA: URUGUAY DEMONSTRATED ITS ATTRACTIVENESS AS A DISTRIBUTION HUB FOR THE REGION
Fecha de publicación: 05/05/2022
Participants highlighted Uruguay's good location for the distribution of products in Latin America, as well as its reliability and stability in political, institutional and economic terms, in addition to its attractive tax incentives.
Uruguay, through its investment promotion institute, Uruguay XXI, participated in the Logipharma 2022 forum with a country stand and the presence of representatives of Aerocargas-DHL, Latin America Cargo City, Zonamerica, and INALOG. Uruguay was the only Latin American country with a stand.
Logipharma, held in Nice (France), returned after two years of pandemic and offered conferences that discussed best practices and lessons learned by pharmaceutical companies and agents of this chain. This is the most important logistics and supply chain event in Europe, and this year's edition received more than 1,000 people, a larger number than at the last event in 2019.
Decision-makers from the companies that attended the event positively highlighted Uruguay's strong location as an option for the distribution of products in Latin America. They also mentioned as strengths the reliability, and political, institutional, and economic stability, as well as the attractive tax incentives that the country offers.
Participation in this event allowed to identify new investment opportunities and positioned the country once again as an attractive option for the installation of regional distribution centers.
Important international companies are using the Uruguayan model to solve the distribution of their products in the Southern Cone. The cases of AstraZeneca, GSK, and Sanofi stand out, as they use Uruguay as a platform to distribute their products to Brazil, Argentina, and Paraguay. Merck, Roche, Knight Therapeutics, Abbott, and Adium, in addition to distribution activities, carry out trading, procurement, supply chain, and quality control activities. Firms such as Megalabs and Eriochem also carry out production and research and development activities.
As part of the investment attraction strategy focused on pharmaceutical companies, Uruguay XXI created in 2018 a public-private articulation area with the different actors of the logistics chain linked to the pharmaceutical hub. There, proposals for improving the business environment are collected, while promotional activities are articulated both locally and abroad.
Three editions of the event "Uruguay - Best Practices in Pharma Supply Chain" have been organized in this area, where all local stakeholders, as well as important international players, exchange trends and challenges. In October 2022, the fourth edition of this event will be held in a face-to-face format.
Palabras clave: