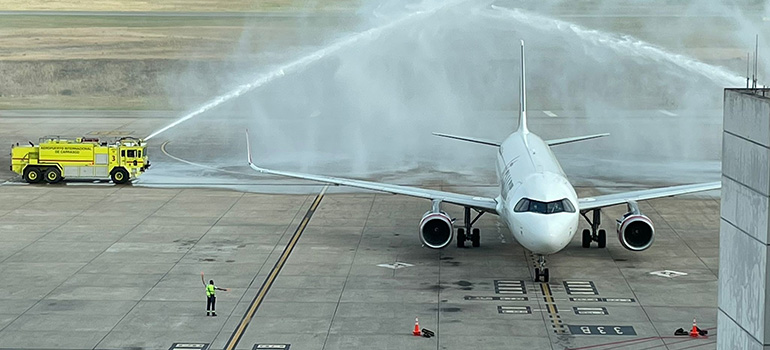 URUGUAY GETS A NEW AIRLINE TO CONNECT WITH THE WORLD
Fecha de publicación: 18/01/2022
JetSmart airline relies on Uruguay to increase its business growth by optimizing connections between Chile and the region.
This Tuesday, January 18, the inaugural welcome of JetSmart's first Airbus 320 was held at Carrasco International Airport, with 80% of its capacity full. With this classic welcoming ceremony and while the pilot and co-pilot waved Uruguayan and Chilean flags out of their respective windows, JetSmart officially began its route between Santiago de Chile and Uruguay.
For the company, recognized in 2021 as "best low cost airline in South America" in the SkyTrax World Airline Awards and among the top 20 worldwide, it means expanding its offer to the region, relying on the potential of Uruguay and with the intention of incorporating routes to Punta del Este in the near future.
The event was attended by the general director of the Ministry of Tourism secretariat, Ignacio Curbelo, the vice-president of the Uruguayan Chamber of Tourism, Francisco Rodríguez, and the deputy director of the agency responsible for the promotion of exports, investments and country image Uruguay XXI, Inés Bonicelli.
The airline will connect both countries with four weekly frequencies already available, speeding up Uruguay's good tourist traffic and reaffirming it as a regional tourist and business destination, now also in the face of Chile.
Palabras clave: