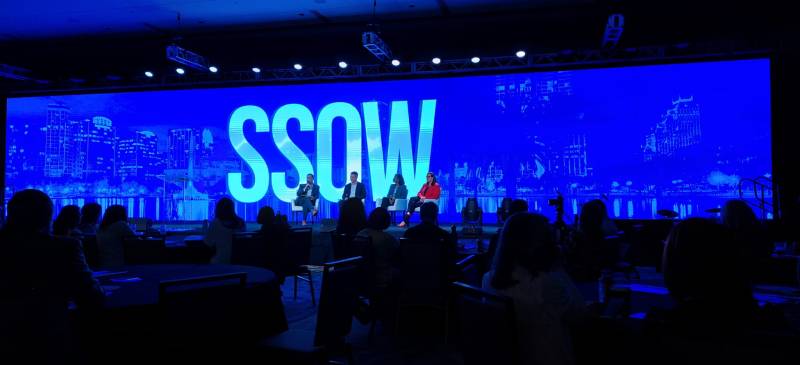 URUGUAY RETURNED TO SHARED SERVICES AND OUTSOURCING WEEK
Fecha de publicación: 04/04/2022
The country exhibited its key advantages as a business hub for the set up of global business centers
After two years of pandemic, Uruguay XXI and other international companies returned to the Shared Services and Outsourcing Week (SSOW) forum, which took place in the city of Orlando (United States). In this edition, Uruguay XXI participated with a country booth, and with Juan Carlos Rodriguez, Aguada Park Free Trade Zone commercial director, as part of the delegation. Uruguay was the only Latin American country present with a booth.
The event offered conferences that addressed best practices and lessons learned in the industry, market trends in the incorporation of technology, artificial intelligence, talent management, remote work, cultural differences and their impact on work, among other topics and testimonials of interest.
Highlights include:
The increase of relocation strategies due to the situation of geopolitical instability in Eastern Europe.
The growth in the diversity of tasks provided by the GBS, highlighting supply chain activities in some cases.
The consolidation of the post-pandemic hybrid work model.
The increasing role of predictive analytics, intelligent automation, process design and improvement, data analytics and digital platforms for shared service centers.
The adoption of the future of work strategies as part of the current operating models (new benefits valued by workers including diversity and inclusion -D&I- issues with the aim of fostering talent retention).
As a lesson learned, companies were forced to redesign and rethink their strategies or work schemes. This has put technology at the center stage of shared services operations, not only to pivot a remote operating environment but also to integrate a sustainable digital work model.
There were many decision-makers from diverse companies interested in what Uruguay has to offer as a business hub. The following key pillars that constitute Uruguay's value preposition were highlighted: reliability, political, institutional, economic and social stability, the quality of human resources together with its ability to master several languages, the attractive tax incentives and the quality of life. 
Participating in this event made possible to position the country as an attractive option for the installation of global business centers, as well as to identify potential investment opportunities.
There are currently more than 80 international companies in the country that have set up their respective business hubs both inside (73%) and outside the free trade zone (27%). These business centers, which employ approximately 12,500 people, are mainly operated by the company itself (76%). There are also centers that operate through outsourced suppliers (24%).
These centers provide a wide range of services to the region and globally, such as procurement, supply chain, fraud control, compliance, finance and accounting, trading, payroll and customer service, among others.
Uruguay XXI, together with other actors, promotes the positioning of the country as a hub for trade, global services and innovation, combining service platforms, but also logistics, since this combined model is very common and successful in the country.
Palabras clave: