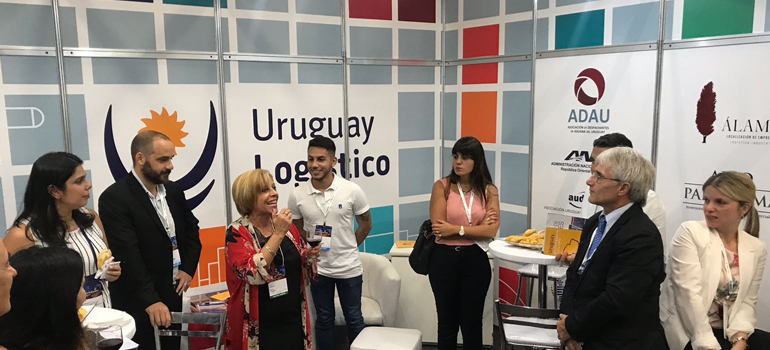 URUGUAY XXI PRESENT AT INTERMODAL, THE LARGEST LOGISTIC EVENT OF THE CONTINENT
Fecha de publicación: 22/03/2018
Uruguay XXI accompanied the National Institute of Logistics (INALOG), industry associations and 30 uruguayan companies at the Intermodal fair, the largest event on the continent for the logistics, cargo transport and foreign trade sectors. The activity was held from April 13 to 15 in San Pablo, Brazil.
The delegation was composed of representatives of Cargo Terminal of Uruguay, the Association of Customs Dispatchers of Uruguay, the Uruguayan Association of Freight Forwarders, the Navigation Center, the Ministry of Transport and Public Works and the companies Lobraus, Ras Group, Christophersen, Alamo, Alto Panorama, Blademar Cargo and Saco Shipping, among others.
Uruguay Logístico had a stand in which consultations were received from different companies. On Tuesday the 13th, the launch of this sectoral brand took place at the stand and shared opportunities offered by the country. The president of INALOG, Ana Rey, emphasized to businessmen and the press the importance of Uruguay as an air and maritime hub. It was also reported to global companies with offices in San Pablo about the current offer of services in order to promote new companies that are established in the country.
Uruguay is positioned as an extremely attractive location for the development of logistics activities, not only because of the attractive regime of investment promotion, but also in the development of Logistic Added Value (VAL) operations, from its Regional Distribution Centers installed in Free, Port / Free Airport and Extra-Portuaries (or fiscal) Zones.
The country's strategic location in a regional market of more than 250 million inhabitants makes it the best option to enter South America. The main centers of production and consumption are interconnected by the densest national road network in Latin America. A regional system of modern waterways, port terminals and airports facilitate the international transit of merchandise.
Palabras clave: