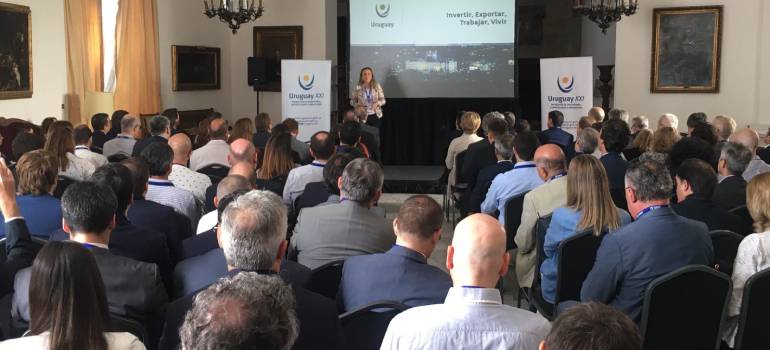 URUGUAYAN INDUSTRY SPECIALISTS ADVISED ARGENTINIAN ENTREPRENEURS ON INVESTMENT OPPORTUNITIES
Fecha de publicación: 20/12/2019
Sectors such as life sciences, corporate centers, agribusiness and ICTs were presented.
In order to position Uruguay as an investment destination for Argentinian companies targeting the region and the world, Uruguay XXI held the activity "Investment Opportunities in Uruguay", in Buenos Aires.
It was a working breakfast organized by Uruguay XXI and the Embassy of Uruguay in Argentina, which took place on December 3 at the residence of Ambassador Hector Lescano Fraschini. It was a great networking opportunity in which a delegation of 30 Uruguayan attendees and 100 Argentinean businessmen participated.
During the event, there were working tables in which sector specialists from Uruguay XXI and representatives of the private sector advised Argentine businessmen on investment opportunities in Uruguay.
In the life sciences sector, the specialists spoke about pharmacy logistics and medical cannabis. In the sector of regional corporate centers, they spoke about HQ shared service centers and trading. Food, forest/wood and medical/industrial cannabis were the priority items in the agribusiness sector.
At the pharma table the success story of Megalabs was presented. Its corporate manager of logistics, Ana Carina Delgado, shared with those present what activities are carried out from Uruguay and the reasons for choosing it.
Globant and one of its founders, Néstor Nocetti, were presented as a success story in the information technology sector and commented on the experience of setting up in the country. In addition, Ricardo Domínguez of RICA Consultores presented the main characteristics of Law 19.179 on free software and open formats in the State, which has been in force since January 2019.
Regarding the free zone regime, the co-founder and executive director of Aguada Park, Francisco Ravecca, and the business development manager of Zonamerica, Leandro Bonilla, presented the different options to be installed in the country.
Decision 33/15 of the MERCOSUR Common Market Council regulates the treatment applicable to goods originating in the countries that make up the block, which transit through commercial or industrial free zones, export processing zones and special customs zones.
Palabras clave: