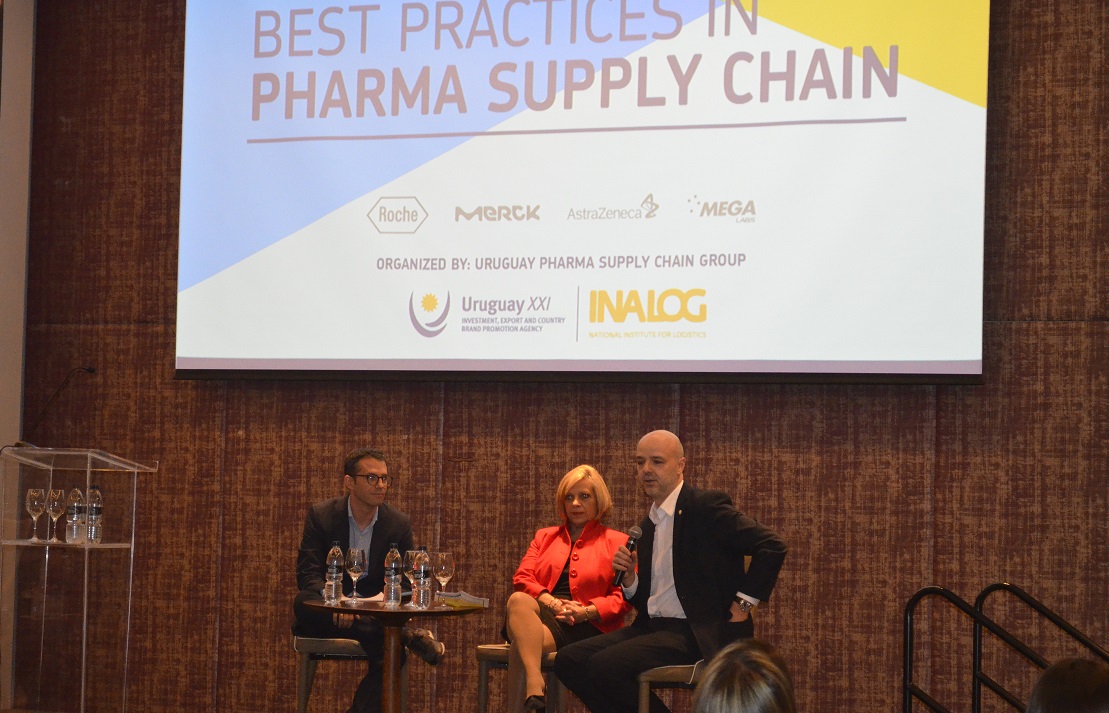 FIRST SEMINAR ON BEST PRACTICES IN PHARMA SUPPLY CHAIN
Fecha de publicación: 23/05/2018
The city of Montevideo held the first edition of the seminar specialized in good practices of the supply chain in the pharmaceutical industry.
Directors, regional managers, international referents and authorities met to discuss the best practices of supply chains in the pharmaceutical sector. Taking as reference the seminars that are held in Europe, Uruguay XXI organized this meeting in Montevideo for the first time with a focus on the Latin American market.
The event was held last Thursday, May 17 at the Hyatt Centric hotel, attended by nearly 100 people, local representatives linked to logistics in the pharmaceutical sector and supply chain managers of international companies in Latin America.
The opening was in charge of the executive director of Uruguay XXI, Antonio Carámbula, the president of the National Institute of Logistics (INALOG), Ana Rey, and the Supply Chain Manager for Latin America of Roche, Andreu Torregrossa; on behalf of the companies that organized this meeting.
This project is headed in Uruguay by the group of leading companies in supply chain of the pharmaceutical industry such as Roche, Astrazeneca, Merck, Megapharma.
The aim is to identify trends and share experiences of the companies in the sector that develop operations in Uruguay. These events contribute to Uruguay's positioning strategy as a pharmaceutical logistics hub for the region.
During the seminar several topics were presented by international specialists on the industry trends, with a specific focus on sales and operations.
In the morning the keynote speaker and moderator of the seminar, Santiago Kraiselburd, who spoke on sales & operations and control tower, was launched.
Then during the day cases of companies in simultaneous groups were treated.
The companies that presented their cases were: Patricia Ferreira from Merck: "Risks in the distribution under GDP rules"; Alejandra Silveira from Astrazeneca: "Challenges of land transport for distribution to Brazil"; Ana Carina Delgado, María Pía Azzini and Carolina Abreu from Megapharma: "Transforming our Supply Chain by focusing on the demand and efficient use of resources"; Martin Kornblum from Elementum: "Diagnosing a multi-billion dollar orchestration problem."
The new dynamics invited the almost 100 participants to discuss, in 2 parallel groups, the cases of the companies and analyzed the improvements in the practices that involve pharmaceutical logistics.
Uruguay XXI, through the Global Services Program, works to promote the internationalization of the Life Sciences sector as a prioritized area, developing strategies focused on attracting investments, promoting exports and innovative aftercare policies.
Palabras clave: