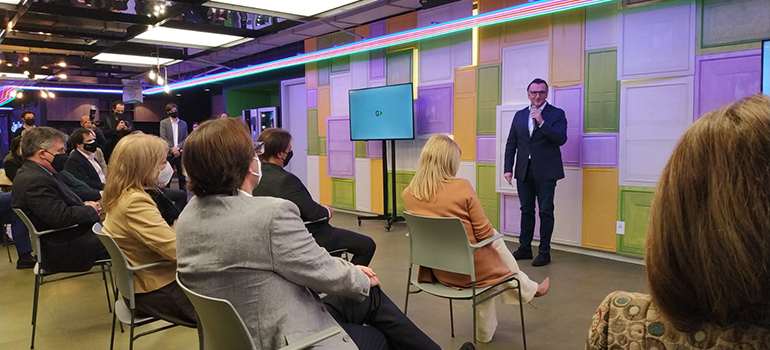 GLOBANT EXPANDS IN URUGUAY WITH NEW OFFICES
Fecha de publicación: 12/07/2021
The Argentinian company arrived in the country 11 years ago and will add 350 people to its staff by 2021.
Globant, a native digital company from Argentina that provides innovative technology services, unveiled its 2700-square-meter new offices in Montevideo, the Uruguayan capital.
With 11 years in the country and a staff of more than 800 professionals, Globant decided to strengthen its presence in Uruguay by hiring more than 350 professionals by the end of 2021, doubling its local workforce and investing 60 million dollars.
The inauguration was attended by the President of Uruguay, Luis Lacalle Pou, Vice President, Beatriz Argimón, the Mayor of Montevideo, Carolina Cosse, the Inter-American Development Bank's representative Federica Gomez Decker, the Deputy Executive Director of the export and investment promotion agency Uruguay XXI, Inés Bonicelli, and the Investment Manager for the same organization, Alejandro Ferrari.
"Uruguay was the first country outside Argentina where Globant landed, always pursuing the dream of bringing opportunities to where the talent is. Today we are more convinced than ever that the country has a human capital of excellence, and a variety of resources to enhance our growth plans in the region," said Globant's CEO and co-founder, Martin Migoya.
"This new, state-of-the-art workspace redefines the traditional office concept and will allow us to continue with a sustained expansion plan for the coming years," added Migoya.
Likewise, co-founder and president for Latin America of Globant X and Globant Ventures, Guibert Englebienne, pointed out that the company has strengthened the commitment to be present in Uruguay.
"It is a country where we were able to create many solutions that delighted our customers (...) Uruguay has many people with a very entrepreneurial attitude, leadership, who love to challenge themselves," he said.
"Since we arrived in Uruguay 11 years ago, we found an impressive pool of talent. We are convinced that Uruguayan talent will be able to take on the great challenges ahead and, at the same time, take advantage of the best opportunities for professional development," said Globant's Country Manager in Uruguay, Diego Garagorry.
This expansion confirms that Uruguay has established itself in the region as a strategic technology hub to develop business and step up in the continent and the world.
Located in an economically attractive region, Uruguay is one of the most reliable countries to do business. Many international technology firms and global companies choose it as a base for their global or regional headquarters.
Uruguay's competitive advantages include its multilingual and highly qualified talent, its time zone, which is beneficial when doing business with leading global markets, and cultural affinity. These are complemented by its advanced telecommunications infrastructure, a highly digitalized society and excellent tax benefits and government incentives.
Palabras clave: