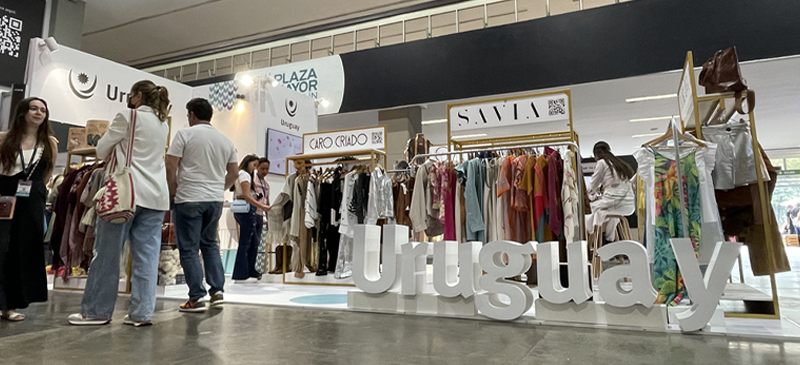 URUGUAYAN FASHION AT COLOMBIAMODA: AVANT-GARDE, SUSTAINABLE AND WITH A UNIQUE IDENTITY
Fecha de publicación: 05/08/2022
Uruguay landed at Colombiamoda+Colombiatex 2022, one of the reference events of Latin America's fashion and textile industry, together with six leading national brands.
For the first time, Uruguay attended Colombiamoda with an outstanding proposal that included the creations of six companies and exhibited the talent and creativity that characterizes its professionals and industry at the meeting for more than 50 thousand attendees. During the three days of the fair, it exhibited original designs with impeccable finishes and its high-quality wool with unique characteristics.
Uruguayan fashion displayed its local identity in line with global trends with a differential that lies in its ability to innovate, its growing trend towards sustainability, ethical production, and the use of high-quality local raw materials such as merino wool, leather, and stones. With a conscious production process that takes care of its skilled labor, inputs, and the environment, the Uruguayan industry seeks to make a positive global impact on the present and the future.
Nearly 11,300 buyers from 47 countries visited the trade show in search of new opportunities. The companies representing Uruguay at Colombiamoda were Ruralanas, which spins, dyes, and weaves each garment, generating valuable products; Caro Criado focused on creating durable garments enriched with embroidery and noble materials; Ag Urioste, a contemporary jewelry brand that uses silver as its main raw material; Gia, which creates handmade pieces with luxurious comfort and lasting beauty; Poblana, which uses and promotes artisanal processes inspired by native roots; and Savia, a signature design brand that creates both classic and modern garments, prioritizing light and relaxed silhouettes.
Find out more about the Uruguayan companies that were present at Colombiamoda.
The original designs and impeccable quality of the finishing touches in Uruguayan garments and accessories captivate the most demanding global audiences, who seek excellence and value details. Uruguay is slow fashion, conquering sustainable fashion buyers, and bringing its roots closer to the world.
These companies attended the annual fair with the support of the investment, export, and country image promotion institute, Uruguay XXI, the Uruguayan Chamber of Design, and the Colombian Embassy in Uruguay.
In addition to exhibiting their creations, the brands connected with international buyers and industry leaders, and generated opportunities to open up the Colombian and regional markets.
Palabras clave: