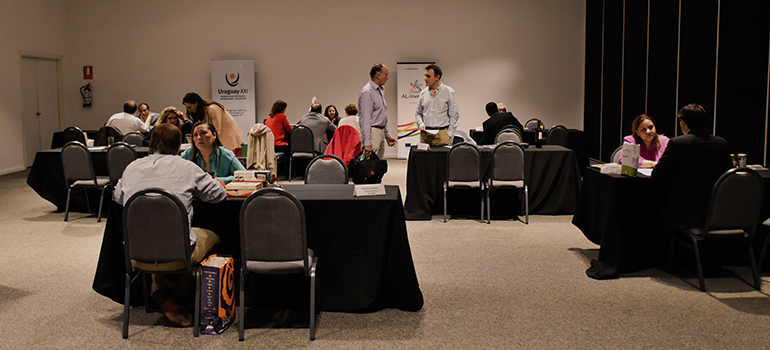 MORE THAN 50 URUGUAYAN COMPANIES PRESENTED THEIR PRODUCTION TO INTERNATIONAL FOOD BUYERS
Fecha de publicación: 24/04/2018
In a business round facilitated by Uruguay XXI, local exporters had the opportunity to meet with eight regional food buyers to open new commercial channels.
Uruguay XXI organized a new Food Sector Business Round, an instance that has been developed since 2014 and that provides local companies with the possibility of offering their products to international buyers.
In this occasion, there were eight buyers - supermarket chains, direct importers and distributors from the United States, Colombia, Paraguay and Guatemala - who arrived in Uruguay to meet with more than 50 national companies that registered to participate in business meetings.
In total, more than 120 one- to-one meetings were held, with the aim of moving towards new commercial agreements. Meanwhile, foreign visitors had the opportunity to visit some of the local companies
Camilo Leiva, buyer from the United States, came to the country for the first time. Logistic Alliance Services, the company he represents, is interested in making commercial exchanges with the Uruguayan market, mainly importing rice. "I think that Uruguayans are very professional, I have seen small enterprises, companies and industries. Production quality is very good and they take great care of their processes. Uruguay is a very good option, "he said.
Daniel Muñoz, from the company Smart Foods, which already does business with the country, also arrived from the United States and in this occasion, intends to diversify and increase the local products that matter. "Business with Uruguay is always positive and the experience of this round of business is a way to access contacts with more companies. I am very grateful to the call of Uruguay XXI, which reduces the effort and risk of accessing this market, "he said.
The director of Ideal of Paraguay, Yvonne Ynsfrán, valued the possibility of knowing personally the owners of the Uruguayan companies that the meeting enabled. "Knowing who offers me their products makes this activity especially interesting," he said.
He also added that "Uruguayan entrepreneurship always aims for innovation and has production for very demanding markets."
On the part of the Uruguayan sellers, Germán Albanell of Limay foods said that "Uruguay XXI's work is very important, since it is extremely difficult to access every market, costs are very high and having this whole group of buyers in a meeting is a great incentive for all companies. "
Meanwhile, Jean Paul Verdier, director of Farming dairy company,was grateful for the work that Uruguay XXI does to boost exports and explained that the organized business rounds are a profitable activity. "Beyond achieving commercial objectives, you can learn from other markets and that is very valuable. It is the easiest, fastest and most viable way to take the natural and logical steps we must follow when we want to export, which is to discover the market, have information and start to know the contacts, "he said.
Along the same lines, Bernardo Penner of the dairy company Claldy, said that the meetings allow him to expand the number of customers in a market and achieve greater insertion of their products, as well as to add new markets.
"Customers come with the will to buy, in this sense, these instances make the work of the different companies much easier, fundamentally of the small ones that do not have the possibility of developing markets themselves", he concluded.
Palabras clave: