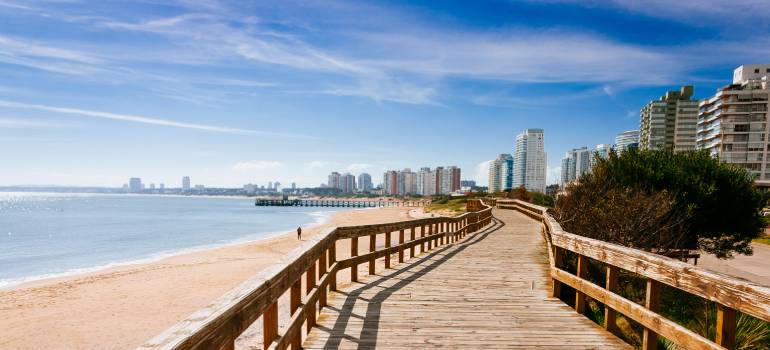 NEW FREE TRADE ZONE IN PUNTA DEL ESTE INTERESTS FOREIGN INVESTORS
Fecha de publicación: 05/07/2021
The US$ 40 million investment is the first of its kind in the eastern city and will be oriented towards services.
In early June, Uruguay's president Luis Lacalle Pou signed permits to build a new service-oriented free trade zone in the eastern department of Maldonado.
The first service-oriented free trade zone in the city of Punta del Este represents a US$ 40 million investment. Carlos Lecueder, director of the firm responsible for the project, told various media outlets that this investment will seek to attract companies from all over the world to settle in one of the most prominent tourist and convention destinations on the Uruguayan coast.
The 25-storey tower is located on the city's main avenue (Gorlero Avenue and 23rd Street El Corral) and sales will begin at the end of the year.
The project, which was presented to the Ministry of Economy and Finance in 2019, will be a place where national and foreign companies can settle to provide services to the world, while at the same time it will employ Uruguayan labour that will work for companies overseas.
This free trade zone is expected to employ around 1,200 people and will cater to companies linked to technological, financial and commercial sectors, as well as professionals working to provide services to other countries.
The growing importance of global services exports from Uruguay is based on some key sectors that have leveraged the country's resources for the development of their businesses, such as business services, trading, software & ITO, financial services and creative services.
Free trade zones in Uruguay can be operated by the State or by duly authorised private entities according to Law No. 15.921 of 17 December 1987. Free trade zones play an important role in attracting investment, generating skilled employment, and diversifying the country's exports.
Read the Global Export Services report.
Read the Free Trade Zones report.
Palabras clave: