URUGUAY CELEBRATED 30 YEARS OF DIPLOMATIC RELATIONS WITH CHINA WITH SUCCESSFUL COUNTRY PROMOTION ACTIVITIES
Fecha de publicación: 26/11/2018
As a result of its participation in the China-LAC summit, the China International Import Expo and the organization of the Uruguay Week in China, the Chinese press published almost 200 newspaper articles.
Throughout 2018, Uruguay celebrated 30 years of friendship with China by participating in various events and promoting the "Uruguay in China Week" in three cities of the Asian country that brought together more than 800 businessmen and potential investors.
The activities were attended by the Minister of Foreign Affairs, Rodolfo Nin Novoa, Uruguay's ambassador to China, Fernando Lugris and the executive director of Uruguay XXI, Antonio Carámbula.
The "Uruguay in China Week", a series of business meetings organized by Uruguay XXI and the Embassy of Uruguay in China in Beijing, Chongqing and Guangzhou, aimed to promote Uruguay as a gateway to Latin America and a business, logistics and technology hub, as well as a destination for investments in infrastructure, agribusiness and corporate services. The exportable offer of quality goods and services was also positioned.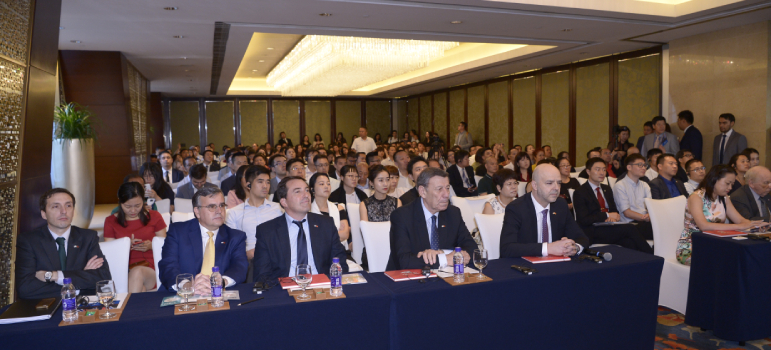 In Beijing, the Minister of Foreign Affairs also signed an agreement by which Uruguay became the first country in the South Atlantic and Mercosur to enter the Maritime Silk Route of the 21st Century, a Chinese initiative known as "One Belt One Road".
In Chongqing, there was also a presentation at the Smart China Expo fair, where Uruguay had a country stand. The activities culminated on August 27 in Guangzhou, Guangdong province, with the inauguration of the Consulate General of Uruguay in that city.
In all instances the guests enjoyed cultural and gastronomic interventions, with cocktails "Flavors of Uruguay", by Chef Sebastian Barcos and sommelier Javier Muyala, who offered a tasting of typical Uruguayan dishes and wines. The events were also accompanied by a candombe show.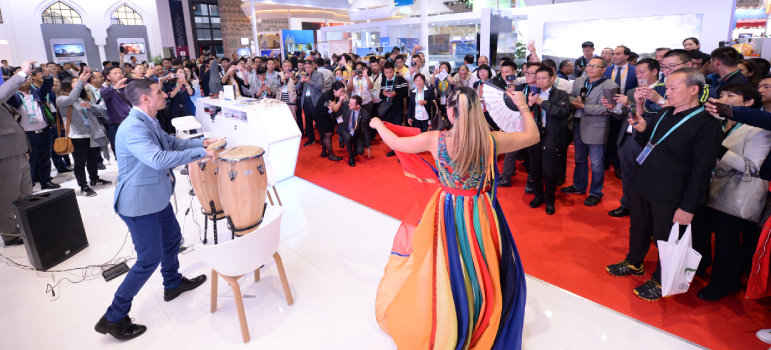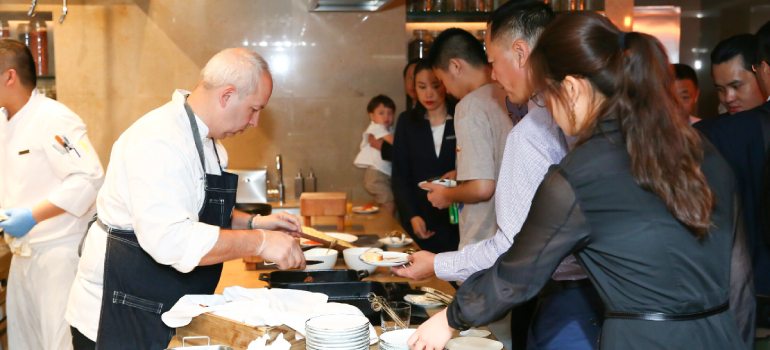 Between late October and early November, a political and business delegation led by Rodolfo Nin Novoa participated in China-LAC 2018, the largest business summit between China, Latin America and the Caribbean, and in China International Import Expo (CIIE), the first fair for Chinese importers. In 2017, Uruguay hosted this event and was the country with the highest number of attendees among all the editions held in Latin America, with more than 2,400 participants.
The 2018 edition was held in the city of Zhuhai, in southern China, and the Uruguay stand received investment inquiries in the areas of agribusiness, infrastructure, forestry, wood, and renewable energy, among others.
At CIIE, visitors consulted about the main products exported to China, and there was great interest in Uruguayan foods such as meat, wine, dairy products, and rice, as well as in the wool and forestry sectors. They were also interested in Uruguay's investment promotion scheme.
Under CIIE, more than 100 Chinese importers participated in the "Why Uruguay?" event organized by Uruguay XXI, the Uruguayan Embassy in China, and the Uruguayan consulate general in Shanghai. There, the differential characteristics of Uruguayan goods and services were presented.
The mission to China also included a seminar in Hong Kong on the advantages the country offers as a business hub in Latin America.
All these actions generated more than 190 press releases in China. In addition, Uruguay XXI deployed a campaign of contents referring to Uruguay in Chinese social networks and created, in order to strengthen commercial links with that country, its pages www.investinuruguay.uy/cn and www.buyfromuruguay.uy/cn in Chinese language.
Today, China is Uruguay's first trading partner with an exchange of US$ 2,549 million and a 20% share of its total exports from the Latin American country.
Palabras clave: