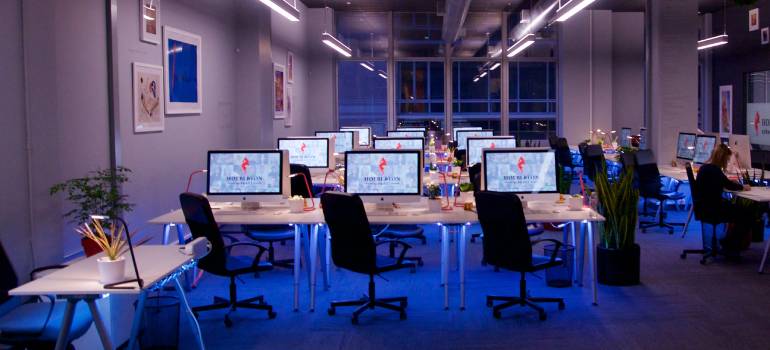 URUGUAY WAS CHOSEN BY HOLBERTON TO TRAIN MORE DIGITAL WORKERS
Fecha de publicación: 15/05/2020
The prestigious digital training school has been the cradle of employment for companies such as Apple, LinkedIn, Google, Amazon, and Tesla.
Uruguay is a business hub par excellence, with a strategic location in Latin America. It stands out for the confidence it offers investors, its clear business rules, and the advantageous regime granted to companies that decide to set up.
The country made a real revolution in technology and digital inclusion, improving its connectivity through optical fiber. Another of Uruguay's highlights is its great availability of qualified talent.
In this context, and attending to a segment of high demand for professionals, the prestigious Holberton School lands in Uruguay, betting on training digital workers.
Uruguay is the second destination for the institution's expansion in Latin America, after Colombia.  
With this new campus opening in Montevideo, Holberton will have 11 campuses worldwide, with locations in five countries on four continents. 
The school, which has nurtured professionals from top companies such as Apple, LinkedIn, Google, Amazon, and Tesla, has a proposal that trains software engineers in both practical and theoretical knowledge, using project-based and peer-to-peer learning. 
Depending on how the COVID-19 pandemic continues to evolve, the Holberton School in Uruguay may open temporarily as a remote program that offers its education entirely online. The school will begin receiving students in September in partnership with the Zonamerica Foundation, which also partnered with Holberton in creating the Holberton campus in Cali. 
"In Uruguay, we need more than 2,000 qualified software developers to help us meet industry demand," said Zonamerica general manager and Zonamerica Foundation board member Martín Dovat. 
"Latin America is a booming center of technological innovation," said Holberton School co-founder and CEO Julien Barbier. "Given the tremendous success at our campuses in Colombia, we are excited about the opportunity to bring highly skilled engineering talent to another Latin American technology market. With so much innovation coming from Uruguay, we are thrilled to be a part of their future growth," he added.
Applications for Holberton are open to applicants of any educational level, age, or gender. To learn more about enrollment and opportunities at Holberton School, visit www.holbertonschool.com.
Palabras clave: