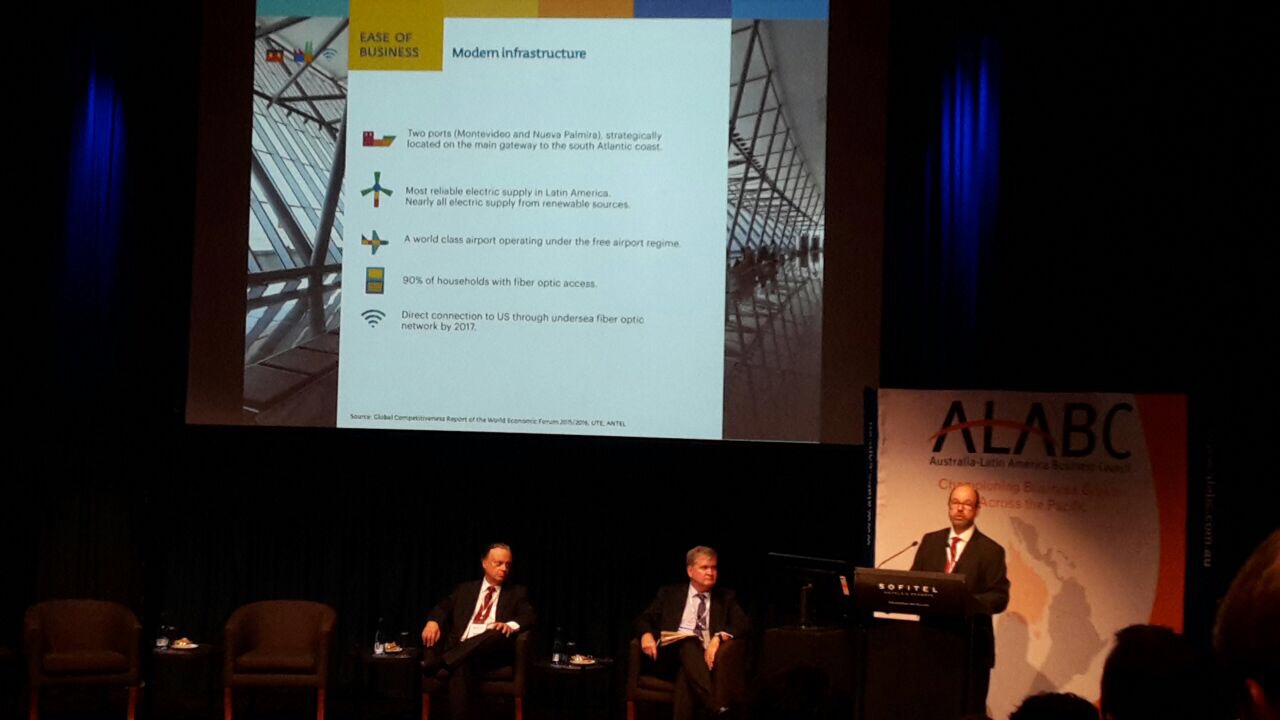 URUGUAY PRESENTED INVESTMENT OPPORTUNITIES IN AUSTRALIA
Fecha de publicación: 31/05/2017
A delegation from Uruguay XXI headed by general manager Álvaro Inchauspe and the Investment Promotion Agency of Canelones visited Australia from May 22nd to 26th, within the framework of the 1st Latin American Infrastructure Forum in Melbourne.
The Uruguayan delegation was also integrated by Alfredo Taullard, partner of Hughes & Hughes and honorary consul of Australia before Uruguay and professionals of the Investment area of the Institute.
The Infrastructure Forum was organized by the Business Council Australia - Latin America (ALABC) and had the support of the Department of Foreign Affairs of Australia and the embassies of Latin American countries in Canberra. The objective of Uruguay in the same was to generate interest in Australian construction companies and investment funds, which occupy a prominent position worldwide, on the opportunities to invest in Uruguay.
For five days in addition, the delegations held meetings with institutions and companies installed or interested in settling in Uruguay, as well as with local authorities in the states of Victoria and New South Wales.
Alvaro Inchauspe and the Uruguayan delegation held meetings with investment funds, Australian businessmen, chambers of commerce and exporters. The axes of the agenda revolved around the characteristics of the infrastructure investment portfolio of Uruguay, the complementarity of the exportable offer of both countries and the use of Australia's free trade agreements with China and Japan.
Uruguay already has an incipient Australian investment in exploration of oil and gas fields in the north of the country, cannabis crops for research and development of medicinal derivatives, software and companies marketing agricultural product.
In the area of infrastructure, contacts were maintained with the Global Infrastructure Hub, a public-private initiative of the G20, which aims to disseminate infrastructure projects among investors globally. Uruguay was one of the first countries to be invited to join this initiative.
The Intendancy of Canelones also generated an important interest in Australia, especially for its offer of Technology Parks and Services. The Department was invited to join the Global Compact Cities Program, an initiative of the United Nations that brings together cities and regions around the world committed to sustainable development and human rights. This Program has its global headquarters within the RMIT University in Melbourne. The Australian authorities also offered to work together with Canelones in the design of smart city programs, in which they have made significant progress.
More about trade relations with Australia?? Country report Australia (2016)