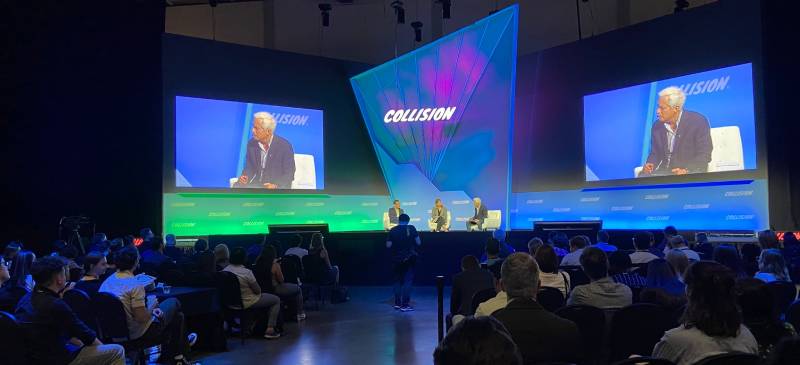 URUGUAY SHOWED ITS THRIVING IT INDUSTRY AT COLLISION, THE SECTOR'S LARGEST INTERNATIONAL EVENT
Fecha de publicación: 13/07/2022
The country, the number one business hub in Latin America, participated with a delegation of companies and a stand.
Collision, the largest international technology meeting held in Toronto, attracted some 35,000 visitors from different parts of the world. Uruguay participated with a stand and a delegation of more than 15 leading local companies to demonstrate the value of its thriving IT industry, Uruguayan talent and to make contacts with potential investors.
The conference brought together the most relevant industry representatives and leading technology companies. More than 600 speakers, more than 1,500 startups and almost 800 investors from some 130 countries attended.
The meeting also served to learn about the latest trends in the industry, which were addressed in different masterclasses and talks that took place there. The topics that the conference addressed revolved around Web3, the future of "Wellness" Work 3.0, talent attraction and retention, flex work modalities and digital nomads, women in top management in technology and the gender gap, the development of Unicorns, the commercialization of "Open Source" projects, Blockchain, the metaverse, accessibility of Universities, sustainability and digitization in health.
Uruguayan companies Abstracta, Brokerware, GoDoWorks, GoGrow, Houlak, Light-IT, LineUp, Lithium, OneTree, Pyxis, Somnio Software, SpaceDev, TryoLabs, TuPase, and Unimate RPA pparticipated in Collision with the support of the investment, export and country brand promotion institute, Uruguay XXI, the Embassy of Uruguay in Canada, the Consulate of Uruguay in Toronto, the Embassy of Canada in Uruguay and Cámara Uruguaya de Tecnologías de la información.
See the list of Uruguayan companies participating in Collision.
Uruguay has more than 500 technology companies that provide global solutions. Among its most recent successes is the case of dLocal, the fintech company that became the first Uruguayan unicorn and started trading in 2021 on the Wall Street stock exchange. The Uruguayan technological and entrepreneurial ecosystem, coordinated and accessible, provides investment opportunities for existing companies as well as for the development of new ventures. Given its characteristics as an orderly, open and transparent country, with access to advanced technology, Uruguay is an ideal destination to innovate and test new technologies.
The country is a first class business center, with remarkable advances in technology. It has exceptional Internet connectivity and penetration and is the most advanced Latin American country in ICT development, as well as the largest per capita exporter of software in South America and the third largest in absolute terms.
In recent years, its technology sector has shown strong dynamism, growing well above the rest of the economy and reaching export destinations such as the United States, which accounts for 74% of total foreign sales, the United Kingdom, Argentina and Mexico, which are also important destinations.
Its solid and first class technological infrastructure is the result of an intensive strategy of public investments that allowed it to position itself among the first in Latin America in Internet penetration. Uruguay has a household connectivity of 88% and 100% in public schools, as well as a high participation of fiber optic connections. It has the most affordable Internet access prices and is among the countries with the highest download speeds in the region.
Technological progress, combined with a very favorable environment for business development in the form of modern export-oriented free trade zones, first-class technology centers and attractive benefits and tax exemptions for the ICT sector, also make Uruguay number one in Latin America in e-Services.
With universal and free access to all levels of education, Uruguay's human resources are competitive, qualified and multilingual. The quality of Uruguayan human resources in STEM (Science, Technology, Engineering and Mathematics) areas is recognized by investors and distinguished by their agile adaptation to new technologies, versatility in the range of programming languages and development tools, and high specialization in different sectors. In addition, the companies have support for the implementation of customized training programs for personnel or new recruitments.
Thanks to Ceibal, the pioneering One Laptop per Child initiative that the country started in 2007, Uruguay became the first country in the world to provide laptops to each and every child and teacher in all public sector primary and secondary schools, bridging digital and educational gaps.
As a result of all these advances, the country has become a destination for international companies seeking quality, efficiency, experience and new opportunities in the most stable and reliable business environment in Latin America.
Among the success stories are national companies, as well as important multinationals of the caliber of Globant or Tata Consultancy Services, and startups that were acquired or merged with foreign companies.
Palabras clave: