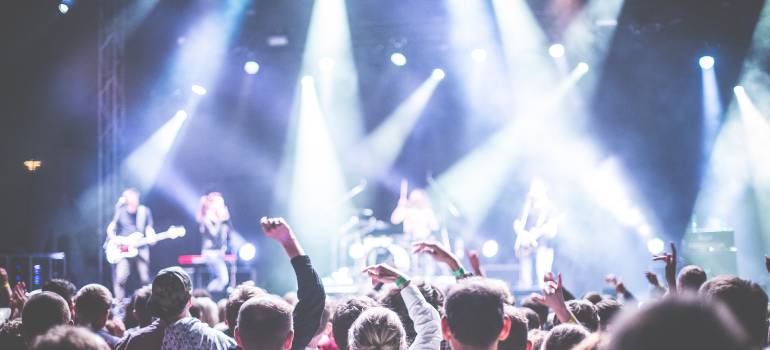 URUGUAY, A COUNTRY IN LOVE WITH ART
Fecha de publicación: 06/05/2020
The popular rock band No Te Va Gustar releases a new album and praises the work of Uruguayan artists.
No Te Va Gustar is one of the most iconic rock bands in Uruguay. In a career spanning more than 25 years, this rock group has managed to take its music all over the planet and has now released "Otras Canciones En Vivo en Latinoamérica," an acoustic album recorded during their tour throughout the region.
From June to December the band toured Argentina, Chile, Colombia, Mexico, Paraguay, and Uruguay with a show that combined some of the band classics and not-so-known songs from an acoustic version. Although the tour was suspended by the coronavirus they were able to finish the recording of this live album.
For Emiliano Brancciari, the band's leader, Uruguayan artists are highly respected in the world and that is due to the sincerity with which they work.
"We are a country where achieving money and fame is not the goal. Because those things do not exist, we are able to create a very original, warm-blooded product. You look for something else like artistic excellence, which is highly valued from abroad", he added.
In this sense, Uruguay XXI -the agency responsible for the promotion of exports, investments and country image- seeks to promote Uruguayan music and works in a Music Cluster. This initiative brings together public and private actors with the objective of generating concrete actions focused on streaming services, in order to provide the music industry with greater incomes during the public health emergency. 
Without a doubt, No Te Va Gustar is one of the most representative bands of Uruguay and some of its songs are true hymns of the country's culture.
For Brancciari and the band's representative, Nicolás Fervenza, the main reasons for their success are their passion, professionalism, and above all, their desire to always provide a good show.
"Otras Canciones En Vivo en Latinoamérica", has begun to circulate on digital platforms. The album allows fans to discover an intimate side of the band and at the same time enjoy their classic songs. 
Brancciari details that this songs compilation works as the second part of the album "Otras Canciones", in which great Uruguayan and international artists participated, such as Jorge Drexler, Julieta Venegas, Draco Rosa, Catalina García and Hugo Fatorusso. 
A new style 
In these almost 26 years of career, No Te Va Gustar recorded 11 studio albums, five DVDs and went through several musical styles such as rock, punk, melodic, and the native murga and candombe. However, the band never tried the acoustic format.
During the live shows, audience response was very eloquent. In Uruguay, the band sold out its eight concerts in the Auditorio Nacional del Sodre, while in Argentina they sold out their ten shows in the iconic Gran Rex theatre.
Fervenza assures that the tour in which the album was registered was much better than expected since they did more than 100 concerts.
For a long time the band refused the acoustic proposal since, in Fervenza's words, its members did not want it to be "just unplugging the instruments". Instead, they wanted to arrive with a creation that would showcase their work, arrangements, and seriousness.
(Based on a note by Federico Anfitti for EFE)
Palabras clave: