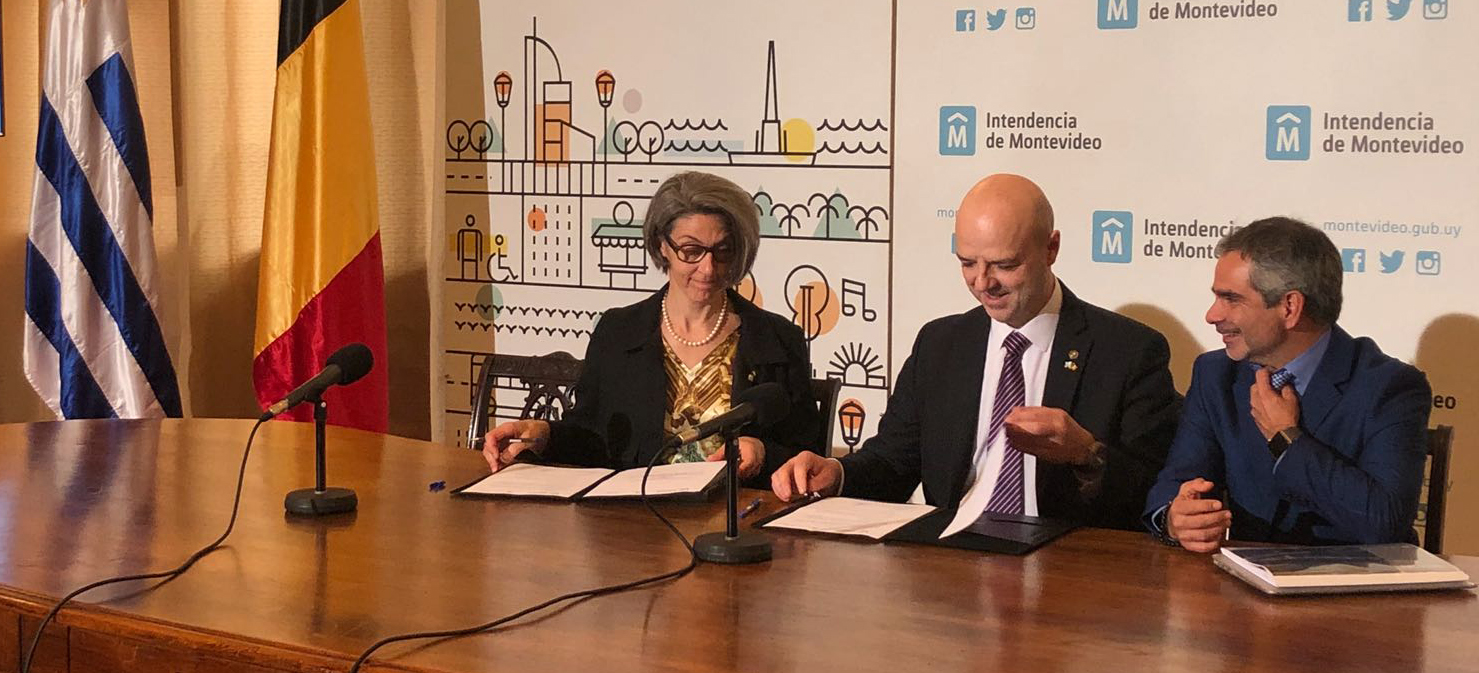 URUGUAY XXI PRESENTED INVESTMENT OPPORTUNITIES TO BELGIAN DELEGATION
Fecha de publicación: 05/07/2018
The institute received Princess Astrid and a group of 135 people composed of businessmen and authorities.
Uruguay received the official visit of a Belgian economic delegation led by Princess Astrid, who was accompanied by Belgian authorities and more than 80 businessmen representing 64 companies.
In Montevideo's City Hall, the princess was declared distinguished visitor to the city and a cooperation agreement was signed between Uruguay XXI, the institute for the promotion of investments, exports and country image and her Belgian counterpart, the BIE-Hub Brussels agency.
During this event, Uruguay XXI presented to the entire delegation the outstanding characteristics of the country as a logistics hub in Latin America, as well as the strengths of the institutional, macroeconomic and legal framework, and the system of investment incentives.
The presentation was made by the executive director of Uruguay XXI, Antonio Carámbula, who highlighted that the important advances in energy and connectivity have helped the country to be seen by foreign companies as a place to settle in order to provide services to all its subsidiaries and the south of the continent.
"We want Belgium, which has a tradition of logistic companies and in fact some are already established in the country, to see more investment opportunities in Uruguay," Carámbula said.
According to 2016 figures, the latest available from Uruguay's Central Bank, Belgian investments in the country have reached US$ 237 million, while on average, its investment flows have been for US$ 16 million between the years 2012 and 2016. Within the investment consultations received by Uruguay XXI, those for the services, pharmaceutical, textile and audiovisual industries stand out.
Meanwhile, in 2017, foreign sales to that country reached US$ 27.7 million, which implied a slight increase compared to 2016. At present, the main products exported from Uruguay to Belgium are rice, equine, porcine and other kinds of meat, as well as cellulose pulp.
In this event, Oscar Curutchet, the director of Economic Development of Montevideo's City Council, made a presentation of projects and business opportunities for the delegation.
During the mission, Princess Astrid held meetings with the Vice President Lucia Topolansky, the Foreign Minister, Rodolfo Nin Novoa, the Economy and Finance Minister, Danilo Astori, and the Transport and Public Works Minister, Víctor Rossi.
In addition, more than 300 bilateral meetings among entrepreneurs and several sectoral seminars were held with the aim of exploring new businesses. Among them, it can be highlighted the construction and infrastructure seminar, organized by the agencies BIE-Hub.Brussels and FIT, along with the Flanders International Technical Agency (FITA). In this event, Belgian authorities and businessmen presented the experiences and projects they have developed in Uruguay.
Likewise, an Agreement on Cinematographic and Audiovisual Cooperation was signed between representatives of the Film and Audiovisual Center of the Wallonia-Brussels Federation (CCA) and the National Film and Audiovisual Directorate (ICAU). The proposal gives Uruguayan producers the possibility of associating with their Belgian counterparts to access the funds granted by the European country.
Palabras clave: