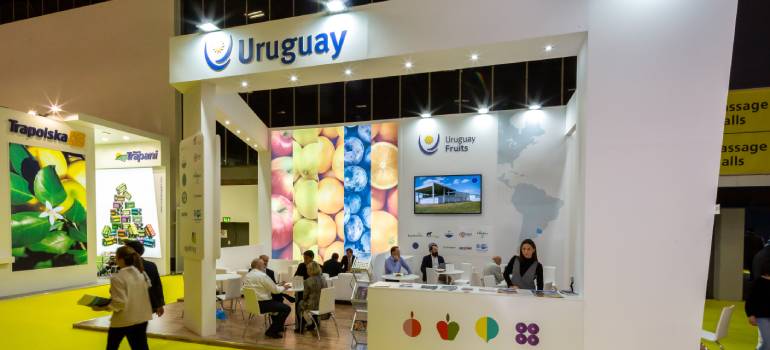 URUGUAYAN PRODUCERS PRESENT AT THE MAIN FRUIT FAIR IN THE WORLD
Fecha de publicación: 27/01/2020
Between Wednesday 5 and Friday 7 February, for the twelfth time, Uruguay will participate with a delegation of producers in Fruit Logistica, the largest exhibition of the sector worldwide that takes place annually in Berlin.
With the aim of continuing to strengthen the country's presence in the European market as a producer of reliable food, Uruguay XXI is coordinating the country stand aimed at promoting local producers in Fruit Logística. The activity is carried out in conjunction with the Ministry of Livestock, Agriculture and Fisheries (MGAP) and the Union of Producers and Exporters of Fruit and Vegetables of Uruguay (UPEFRUY).
It is the twelfth consecutive time that Uruguay is present with a country stand in Fruit Logistica, the largest event of the fruit sector that brings together the main references of the sector worldwide and brings together the most important decision makers, professionals and international buyers.
Within the Latin American space, the delegation of exporting companies or companies with fresh fruit and vegetable export potential have the opportunity to exhibit their products in a country stand of 60 square meters.
Fruit Logísitica brings together 3,000 exhibitors and more than 79,000 visitors from over 130 countries. The high level of attendance represents a great potential as a platform to show the quality of Uruguayan products and to facilitate the closing of business deals, based on direct contact with international customers.
In 2019, the protagonism of the fair was taken by the national citrus and blueberries, characterized by their high quality and great taste. Citrus fruits represent about 85% of Uruguayan fruit exports and stand out for their advanced traceability system that provides guarantees of their origin. Citriculture traceability is present in all stages of the chain, from the formation of the plant, during the development of the fruit, until it reaches the country of export.
The introduction of agro-intelligent technology in the production of citrus fruits allows consumers to access information on phytosanitary elements, nutrition, risk, among others. Uruguayan citrus fruits have the additional advantage of entering European markets in counter season.
The Uruguayan climate, the fertility of the land and the responsible production are favorable for the cultivation of blueberries. In this case, the geographical location, with opposite seasons to the markets of North America and Europe, also transforms the country into a strategic supplier. In the last decade the blueberry was the fruit with more development in terms of volumes produced and exported.
Palabras clave: