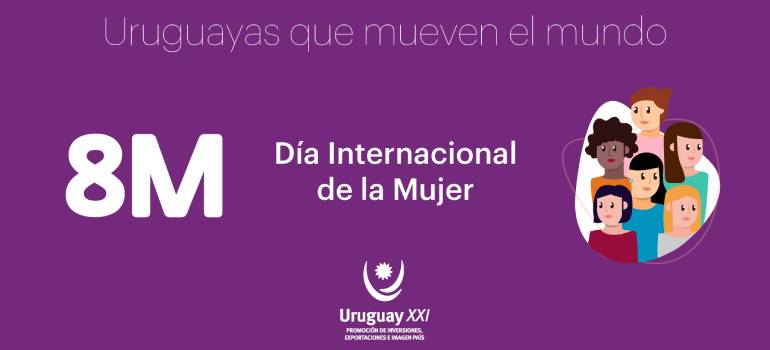 #8M: THREE URUGUAYAN LEADERS SHARED THEIR EXPERIENCES
Fecha de publicación: 30/03/2020
Within the framework of Women's History Month, Uruguay XXI interviewed three Uruguayan leaders.
On the occasion of Women's Day and under the premise "Uruguayas that move the world", Uruguay XXI coordinated throughout March a series of interviews with women who are leaders in different sectors, to discuss and make visible their contributions, concerns and the difficulties that women still have to overcome as entrepreneurs.
Smart Talent, Marca País and Uruguay XXI talked with software designer Lucía Bustamante, biologist Laura Macció and singer Francis Andreu. Read the complete interviews in the links and continue sharing their stories.
Breaking the myth that technology is a male domain
Learn about the history of Lucía Bustamante, a designer specialized in software design and founder of Mujeres IT, a network of women that promotes proposals aimed at promoting, empowering and reducing the gender gap in the technology sector in Uruguay.
"We believe that there is still much to be done, such as focusing on girls and adolescents, and showing them the possibilities that technology offers," said the designer.
Women and science: working to make it more equitable
Biologist Laura Macció is founder and CEO of Aravanlabs, the first Uruguayan biotechnology company to produce microbiological inputs, as well as to provide microbiological control services and introduce the concept of microbiological mapping applied to the food and pharmaceutical industries. In addition to research, the company -which is undergoing an internationalization process- offers more than 100 products and over 70 microbiological control services.
"Culture makes us imagine a man when we are told about a scientist. These are cycles of humanity that are mutating. I think women are living a quite different story about that," she said.
The female voice in tango
Francis Andreu, singer and ambassador of Uruguay Natural, is considered one of the most outstanding female voices of tango and milonga in the country. Andreu began his artistic career at the age of 16 in the café Montevideano El Ciudadano and in his career she has shared the stage with important figures of Uruguayan music such as Horacio Ferrer, the "Canario" Luna and the Ibarburu brothers.
"There are a lot of women who occupy fundamental roles in general and they do it wonderfully well (...) I think that women who lead have the same advantages as men, but we are usually more powerful. Maybe it's because we lead with more sweetness", said Andreu about the role of women in Uruguayan music.
Palabras clave: