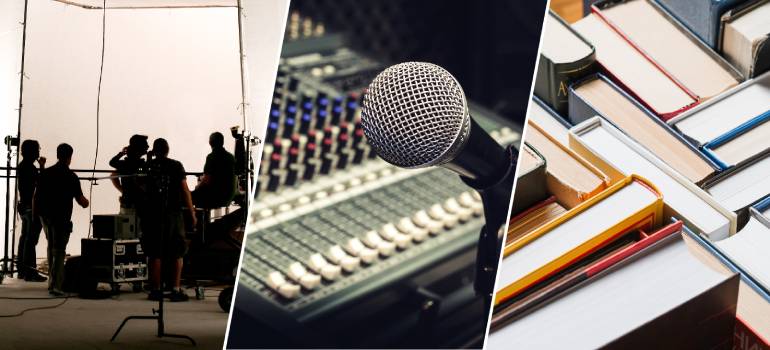 URUGUAYAN ARTISTS OFFER THE WORLD THEIR OUTSTANDING PRODUCTION
Fecha de publicación: 11/05/2020
Artists' ability to see opportunities in difficult times led them to create new proposals to offer the world the highlights of their production
The arrival of COVID-19 had a strong impact on the global cultural sector due to the suspension of face-to-face events. However, home confinement also increased entertainment content consumption. Uruguayan artists' ability to see opportunities in difficult times led them to create new proposals to offer the world the highlights of their production.
Audiovisual 
Spending more time at home and consuming more audiovisual content has become a reality for many people around the world. For this reason, national creators and filmmakers decided to provide access to an online catalogue with the best of national cinema. 
With the aim of promoting the consumption of national audiovisual production, the National Film and Audiovisual Office (ICAU), the Association of Film Producers and Directors of Uruguay (Asoprod), the Ministry of Education and Culture (MEC), the state telecommunications company Antel and the Montevideo Audiovisual Department of the Montevideo City Government offer more than 100 Uruguayan feature films, short films, series and documentaries with free access on the Vera TV platform.
Music 
The social distancing measures implied the indefinite suspension of musical shows, classes and workshops and generated a negative impact on the artists' income. The total number of creators in Uruguay is estimated at 10,000. Due to this situation, the campaign #SuenaUruguay was developed, an initiative that seeks to promote the consumption of Uruguayan music. 
Within this framework, a Spotify platform was created in which national musicians and bands offer a personal selection of their favorite Uruguayan songs.
The director of the Bizarro record label, Andrés Sanabria, initiated this proposal that seeks to entertain and increase the income that musicians receive with each complete reproduction of their songs on digital platforms. Suena Uruguay was a trend on twitter and their lists can be found on Spotify.
Literature, visual and performing arts 
The National Directorate of Culture of the Ministry of Education and Culture (MEC) finances 500 virtual classes thanks to the "Rúben Melogno" Cultural Solidarity Fund. There were 674 applications from teachers, workshop leaders and specialists in various artistic areas from all over the country. The public entity selected: 15 literature proposals, 15 music proposals, 15 visual arts proposals and 35 performing arts proposals. 
Within ten months from june, 100 free courses and workshops will be published on the CulturaenCasa.uy platform. There will be literary workshops, music courses on improvisation and performance techniques, visual arts courses and workshops, drawing, photography, urban art and training in performing arts, circus, dance, performance and theatre practices. 
Another similar initiative was undertaken by the National Agency for Research and Innovation (ANII) and the Inter-American Development Bank (IDB), which allocated UYU 3,882,477 to support 20 projects in the fields of music, audiovisuals, journalism, publishing, performing arts and design. The purpose is to raise awareness of the importance of preventing COVID-19, provide entertainment for families in times of home confinement and make coexistence more enjoyable.
From 140 applications, 20 projects representing different artistic areas were selected. Series, concerts, discussion groups, games, music festivals, mini-series on healthy cooking, storytelling, and tutorials to create games are some of the projects that will be available in the first days of May. Learn more about this project here. 
Palabras clave: