PUNTA DEL ESTE BECOMES A CULTURAL TOURIST DESTINATION WITH NEW ICONIC MACA MUSEUM
Fecha de publicación: 10/01/2022
The Atchugarry Museum of Contemporary Art, designed by architect Carlos Ott, opened with hundreds of guests and the presence of Uruguayan President Luis Lacalle Pou.
With a ceremony that brought together music, plastic arts and dance, the Museo de Arte Contemporáneo Atchugarry (MACA) was inaugurated, an iconic space for Uruguayan culture, as well as an immense attraction for tourism, both for its architectural value and for the important artistic exhibitions it will showcase.
This colossal artistic space, which combines the talent of the award-winning Uruguayan architect Carlos Ott with that of the prestigious Uruguayan sculptor Pablo Atchugarry, positions Punta de Este as a cultural tourist destination.
Located on the ample grounds of the Pablo Atchugarry Foundation in Manantiales (Punta del Este), the MACA stands with two adjoining buildings of elegant pink eucalyptus wood design and more than 5,000 square meters of exhibition space. It offers four exhibition halls, a multifunctional room, cafeteria and store.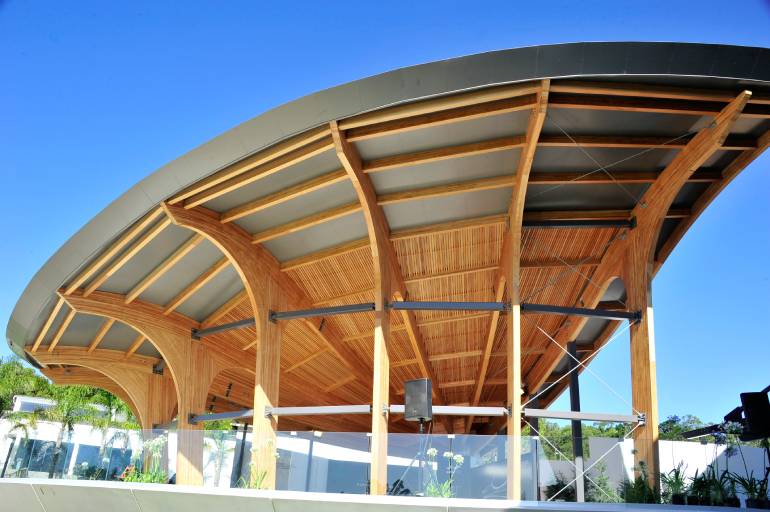 Two internationally attractive exhibitions are currently on display: on the one hand, the international retrospective Christo and Jeanne-Claude in Uruguay, which includes more than 50 works by the famous pair of artists known for covering large monuments and public spaces with canvas, arriving for the first time in South America. On the other hand, Heliografías, a series of heliographic engravings of images composed with Letraset figures, by Argentine artist León Ferrari, is on display.
The space also houses Atchugarry's permanent collection, which contains more than 100 works by Latin American, American and European artists, including Julio Le Parc, Carlos Cruz Diez, Joaquín Torres García, Ernesto Neto and Carmelo Arden Quin.
The MACA's cultural outreach program will offer film series, lectures, seminars and workshops, with the participation of historians and critics from the region and the world, with artistic, educational and cultural activities for all audiences.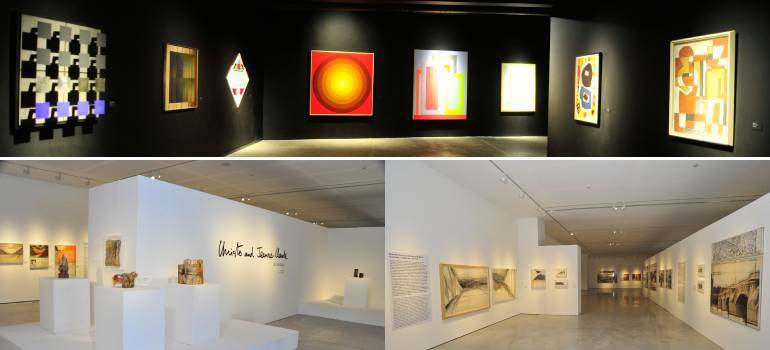 Inauguration with art and personalities
The inauguration, which concluded with a show by the emblematic Brazilian musician and singer-songwriter Toquinho and a performance by the SODRE National Ballet, was attended by Uruguayan President Luis Lacalle Pou, accompanied by his wife Lorena Ponce de León, who cut the ribbon together with Pablo Atchugarry.
Also present were the Secretary of the Presidency of the Republic, Álvaro Delgado and the Ministers of Foreign Affairs, Francisco Bustillo, of Tourism, Tabaré Viera and of Labor and Social Security, Pablo Mieres. Also in attendance were the Undersecretary of Foreign Affairs, Carolina Ache, the mayor of Maldonado, Enrique Antía, the president of Antel, Gabriel Gurméndez, and former presidents Julio María Sanguinetti and José Mujica.
In statements to the newspaper El País, the president said that this is not only a project for the whole of Uruguay, but for humanity. Atchugarry told the newspaper that the project is "deeply rooted in Uruguay, a lot of Uruguayan art will be exhibited and made known to the world".
Palabras clave: