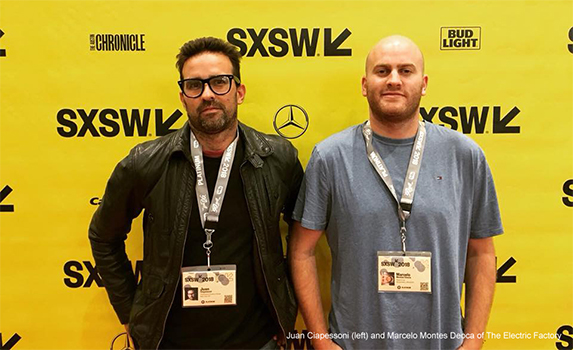 THE URUGUAYAN APP THAT WON OVER MICROSOFT AND GOOGLE: READ TO ME
Fecha de publicación: 06/06/2018
Uruguayan creativity changed the game and brought home the highest price in the innovation in connecting people and families. The Electric Factory won SXSW Innovation Awards with AR experience: READ TO ME
In April 2018, Uruguay stood tall among other tech innovation giants at Austin, Texas as the Global innovation group The Electric Factory won the 2018 SXSW Interactive Award in the Innovation in Connecting People category for its product, "Read to Me".
THEF was the only company representing Latin America among the 65 finalists and beat 5 innovation giants -such as Airbnb and Microsoft -in the category created for honoring the best new way to connect and communicate with others.
"It´s historic what was achieved and it gives us great satisfaction because we are inspiring others and we show that (…) everything is possible. You have to do things well … and dream "said Juan Ciapessoni, co-founder and Chief Creative Officer of The Electric Factory.
Developed by the Electric Factory and the local production company Eme content, "Read to Me" serves as an Augmented Reality solution for bedtime storytelling with an internet-connected bedside lamp that recognizes audible reading and converts it into a real-time animation, complete with sound, projected onto the bedroom wall. The illustrations are triggered by the sounds of a human voice reading a story and incorporate every plot twist and page turn to bring the words to life in a radically new way. 
While the experience at present works with the lamp, the aim is to be able to connect it to multiple devices and to be open to both publishers and parents. According to Ciapessoni the "Read to Me" project further reflects The Electric Factory's increasing focus on creative innovation and problem-solving. "As we evolve, our company is not only solving problems through digital production and IoT, integrating everything from the concepting to the execution, but we're also creating our own products and accelerating startups through prototyping and testing. 'Read to Me' is just an example of where great ideas can come from. We want to solve problems, even without a brand or client, and then drive business from there."
Here more about the project and the talent behind it: http://bit.ly/2F5gbJG
Source:
Palabras clave: