URUGUAYAN ILLUSTRATION TALENT IS HIGHLIGHTED AT BOLOGNA CHILDREN'S BOOK FAIR
Fecha de publicación: 03/05/2020
For the third consecutive year, Uruguayan illustrators were selected out of 3,000 participants to be part of the fair's official exhibition.
At Bologna Children's Book Fair (BCBF) illustration has a privileged place. Out of more than 3,000 applications, only 70 were accepted for the official exhibition. And although the number of applications is immense, Uruguayan talent manages to stand out.
In the 2020 edition, Eduardo Sganga will raise the Uruguayan flag. He was preceded in 2018 by illustrators Fran Cunha and Dani Scharf, and in 2019 by Alfredo Soderguit, Sabrina Pérez and Cecilia Rodríguez.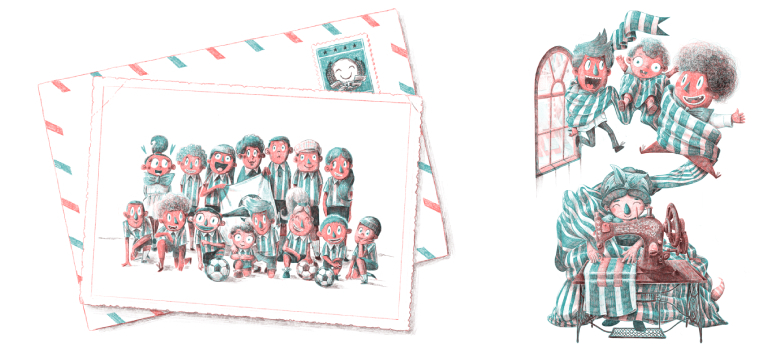 Illustrations by Eduardo Sganga.
From Monday 4 to Thursday 7 May, representatives from the Amanuense and Basilisa publishing houses and the copyright agent Jorge Varela took part in the event through a virtual platform. Uruguay's participants were unanimously elected by a tribunal composed by representatives from Uruguay XXI, the Ministry of Education and Culture (MEC), and the Uruguayan Chamber of Books (CUL). In addition, 14 authors had the possibility to exhibit their work in a children's and young adults' literature catalogue and in the MEC's illustration catalogue.
Aimed at promoting the national publishing business and talent, Uruguay XXI has created a catalogue with a selection of works from Uruguayan authors of children's and young adults' literature. Those selected were: Amanuense, Natalia Cardozo, Matías Castro, Criatura Editora, Editorial Basilisa, Valentina Echeverría, Nino Fernández, Jorge Matos, María José Pita, Claudia Prezioso, Sebastián Santana, Dani Scharf, Alfredo Soderguit and Eduardo Sganga.
Successful experiences 
The Uruguayan illustrator Alfredo Soderguit has already participated in the BCBF twice and his experiences were very positive. In 2017 he sold the copyright of his book Soy un animal (I am an animal), which in his words can be defined as a poem. Last year he managed to secure the sale of rights to his book Los Carpinchos (The capybaras) to he Venezuelan publisher Ekaré and the French publisher Didier Jeunesse.
Soderguit considers that continuous presence "has a cumulative effect that is fundamental", and not only for learning but also for obtaining direct results. "Of course, this depends on previous experience, otherwise it is always like starting over. It is fundamental to have a project, to go out and offer something concrete and not to explore," he evaluated.
"For the project, I presented in 2019 I did a more focused analysis on publishers who might like my work, so as not to spend time and energy interviewing publishers who were not potentially interested. I made a selection and went for it.  Unlike 2017, when he requested 70 appointments, in 2019 he coordinated 10 with potential buyers, of which at least seven asked for the project. This way he was able to choose the best proposal.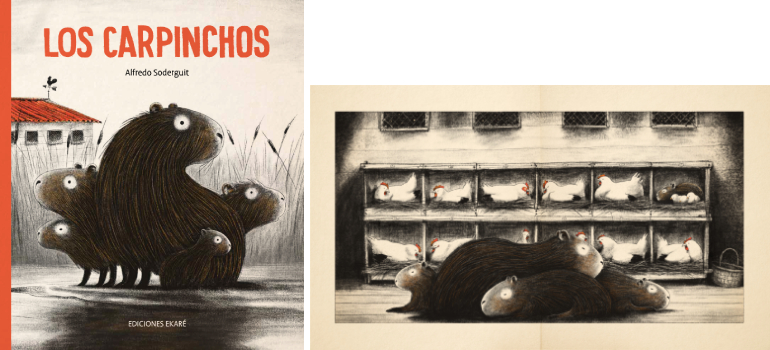 Illustrations by Alfredo Soderguit.
"Los Carpinchos is a fable-like tale with a fairly simple narrative, although with quite a lot of visual display at the level of illustration, somewhat naturalistic. It is about forced immigration: a family of capybaras escapes from the hunting season, as well as a Syrian family escaping from the war. The capybaras leave by a river and arrive at a bank where there is a henhouse where they take refuge," Soderguit said, explaining that despite the "utopian outcome," the story shows how the capybaras have to face the limits that the chickens put on them.
Julia Ortíz, the editor of Criatura, observed that participating in the fair is an excellent opportunity to generate new contacts and re-establish links with others. In 2019, she coordinated ten appointments before the fair, and then, once the event started, many more came up spontaneously. As a result of the contacts she made, Criatura Editores sold the copyright of the book Grande (Big).
Grande is the first book written and illustrated by Pablo Choca, a designer from the advertising world. "It is one of those things that almost never happens, a complete stranger sent us a manuscript, we loved it and we made many copies. In fact, it won the Bartolomé Hidalgo Award 2019, it was a total surprise for being a first-time author," said Ortíz.  
The editor highlighted the high level of Uruguayan illustration. "It is up to the task and can compete with the rest of the world." She also added that the quality of Uruguayan illustrations and the seriousness of their proposals is what attracts the attention of foreign publishers.
Illustrator Claudia Prezioso participated in the BCBF in 2017 after winning the National Illustration Prize, which consists, in part, of presenting a project at the fair. During her visit, she was accompanied by illustrators Sabrina Pérez and Laura Carrasco, who had come in second and third place respectively. The three illustrators, together with Dani Scharf and Fran Cunha, formed the Uruguayan delegation that year.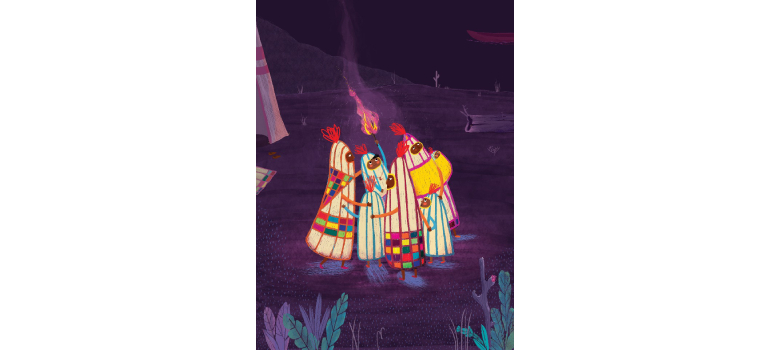 Illustration by Claudia Prezioso.
The way to return to Bologna in 2019 was through the exportable catalogue, something that allowed an Italian publishing house to become interested in her work and buy her work Ama (Love). This creation deals with love "represented by two individuals that fall in love and go through the journey that starts at that moment when two eyes meet and start to build a world of fantasies".
"Compared to European illustration, Uruguay is perceived as a place of freshness. There is a side of us that is more original and that seems attractive" to foreign publishers, Prezioso explained.
"We are a group that has been working for a long time and that shows in the diversity. Illustration training is just beginning to arouse interest. However, former illustrators have been experimenting in a self-taught way and this has led to the development of different profiles.  There is great freedom in Uruguay and we have to take advantage of it", she highlighted. 
Palabras clave: