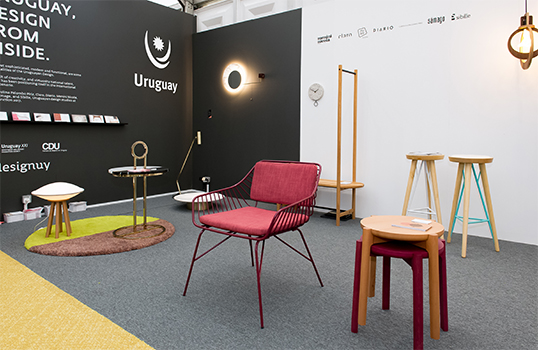 URUGUAY PRESENT AT THE LONDON DESIGN FESTIVAL IN SEPTEMBER
Fecha de publicación: 29/08/2018
Uruguay will put in front of the eyes of the world a selection of its most outstanding contemporary design talents, as well as a fascinating exploration of the legacy of one of the most influential Uruguayan architects, Julio Vilamajó.
Uruguay XXI will take Uruguayan design to the London Design Festival, where two exhibitions will showcase the characteristic simplicity and functionality of local design, which has also been shaped by its most characteristic resources such as wood and valuable workshop craftsmanship.
From 17 September to 27 October, the exhibition 'Invisible Threads' will be presented at the Aram Gallery in London, showing the result of the residence of the Uruguayan designer Matteo Fogale at the Casa Vilamajó Museum - the house that the modernist architect Julio Vilamajó Echaniz built for his family in the 1930s - and which allowed him to investigate hundreds of original drawings by the architect.
Based on this experience, Fogale led a series of workshops with seven design studios in Montevideo (Estudio Diario, Menini-Nicola, Carolina Palombo Píriz, Claudio Sibille, Muar, CLARO and Rafaél Antía) that collaborated in materializing the ideas and details of the drawings in original products, which later became the exhibition that will see the light in London and will propose furniture, lighting and other home accessories that are entirely produced in Uruguay by Amtica.
In parallel, the exhibition 'Uruguay, A Natural Collective' will be inaugurated at the largest interior design fair in London, Designjunction. There, from September 20 to 23, nine designers will present a collection of furniture created exclusively with natural materials and traditional techniques, which will explore different perspectives of Uruguayan design.
The studios CLARO, Menini-Nicola, Estudio Diario, Carolina Palombo Píriz, Rafael Antía, Sámago, Estudio Tosca, Izzi Design and Muar will be the main names in this edition, that represents the third consecutive participation of Uruguayan design in this great event.
This design exhibition, made possible thanks to the support of the Uruguayan Embassy in London and the organization of the Uruguayan Design Chamber (CDU) and Uruguay XXI, aims to ensure Uruguay's permanent place on the world design scene.
At the same time, the president of CDU, Martín Piñeyro, was also invited to DesignConnections at the London Design Festival, created for directors and senior curators of museums, design centres and festivals around the world with the aim of connecting them to foster new collaborations and international associations. This is the first time that Uruguay has participated in this event, confirming the importance that Uruguay is taking in the world design scene, particularly in the United Kingdom.
Palabras clave: