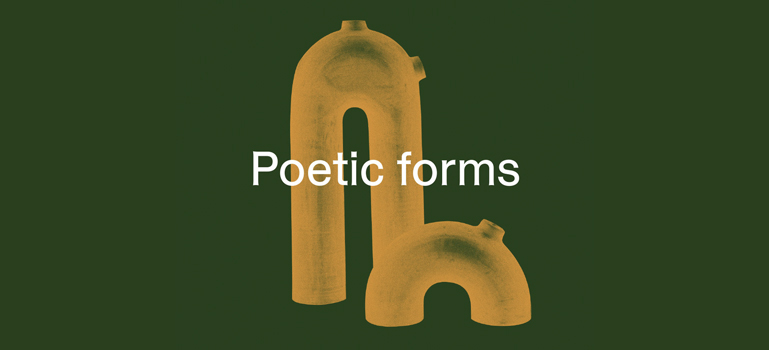 URUGUAY RETURNS TO LONDON DESIGN FAIR
Fecha de publicación: 27/08/2019
Uruguayan furniture designers will use their creations to tell the story of the poet Juana de Ibarbourou.
Uruguay has unveiled the full line-up for its much-anticipated return to the London Design Festival this September. Channelling the work of one of Uruguay's most-renowned creatives, poet Juana de Ibarbourou, nine design studios will each reimage one of her poems for 'Poetic Forms: The work of Uruguayan poet Juana de Ibarbourou'.
Juana de Ibarbourou is a literary icon of Uruguayan culture. Recognised in South America as one of the greatest poets, earning her the name 'Juana de América'. Curated by London-based Uruguayan designer, Matteo Fogale, Uruguay's contemporary creative studios have distilled the work of Ibarbourou into furniture, accessories and textiles in a celebration of the centenary of 'Las Lenguas de Diamante', a book that catapulted Juana de Ibarbourou instantaneous success both nationally and internationally upon its publication in 1919. This emblematic book had a huge impact on the Spanish-speaking world and is still as relevant today.
'Las Lenguas de Diamante' features a series of poems which celebrate the body and its relationship with nature, and each of the creatives has taken one or multiple poems as the starting point for their designs.
Estudio Claro, a multidisciplinary collective who design products and spaces, have selected 'El Dulce Milagro' as their inspiration. In this poem, Ibarbourou creates an enchanted world that is dynamic, feminine, warm and visceral, featuring references to blooming flowers and the stars as part of a powerful love.
Estudio Claro will present a series of objects that guide visitors through the stages of the poem including vases and vessels featuring sprouting flowers referencing joy and a mirror to symbolise the reflection of reality and the gaze of others. The series will culminate with a seat, representing the end of the poem, which reaches a moment of contemplation and quietness. Claro will work in ceramic, natural fibres and glass to create the piece.
Estudio Diario, an industrial design studio based in Montevideo, has selected 'Salvaje', a poem that figuratively describes the typical Uruguayan countryside, guiding the reader through pastures and a stream. As the character moves through this landscape he slowly becomes part of it, surrendering to nature. As the poem progresses, the reader becomes part of this process, sensing the aromas, textures, colours and sounds highlighting the beauty of the wild.
Estudio Diario will present a series of small-scale objects for personal care including a mirror, container and hairbrush. Visitors will be encouraged to interact with the objects, with the aim that these too will evoke a similar sensory experience to 'Salvaje'. The objects will use contrasting textures, colours and contemporary forms. Estudio Diario will work with raw materials such as wood and tiento (a material derived from leather) and mix of modern and craft techniques such as woodcarving at braiding of the Tiento.
Muar has designed a set of coffee tables and a wall mirror, each inspired the poems, 'Lenguas de Diamante' and 'La Estrella' respectively. Based on the passion between two lovers, the coffee tables are bound by connected ties that represent passion and supreme sensory dialogue. The connection loops allow the tables to be arranged closely together or at an angle from each other. The lovers are represented by the materials used— aluminium is the skin dyed with the moonlight and here, suede symbolises the flesh and pleasure. The mirror designed by Muar embodies the poem 'La Estrella' by using superimposed layers of brass and antique mirror to evoke a star's reflection and the distortions as they appear on a pond's surface.
Manos del Uruguay was founded in 1968 to give the women jobs that would allow them to provide for their families, be independent and self-develop while staying in their home villages and keep their roots and traditional skills. Manos del Uruguay will present a series of new throws and pillows, inspired by 'Las Lenguas de Diamante', creating three lines of objects called 'La Noche, El Lago and Los Amantes', or 'The Night, The Lake and The Lovers'. The new pieces are handmade in natural wool fibers which are biodegradable.
Estudio Tosca were inspired by the poem 'La Hora' and have designed a clock, a mirror and candle holders that symbolise time passing and reflection (in old age) and brightness (in youth). Estudio Tosca has designed pieces that are functional with a strong stage presence.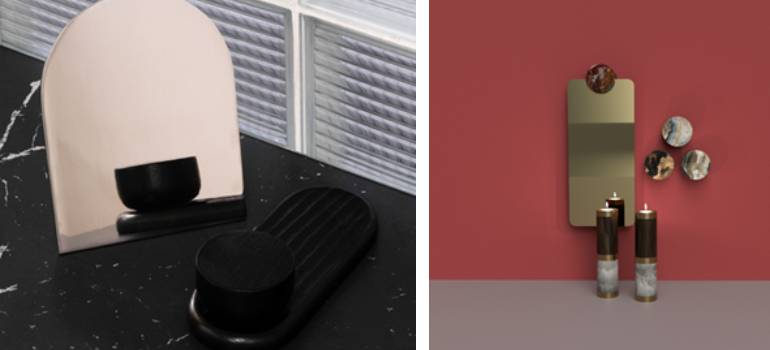 The studio's intention was to create designs with (material) oppositions as in 'La Hora'. Precious stones are carved into contemporary forms with a warm colour palette and metallic finishes. Tosca's interpretation is that these materials are almost eternal, the result of millions of years of geological formation and the passage of time as we know it will not damage them – much like the journey in 'La Hora'.
Sámago will showcase a set of coffee tables, each of which has different surfaces that rotate along a differing axis. The table mirrors 'La Arboleda Inmóvil', a poem which recalls a still block of pine trees that does not move with the wind or any other stimuli, as if haunted. The poet wants to see the trees come back to life, free as they once were.
Likewise, the tables may seem rigid and traditional but through interaction with the user they come to life, dynamic and playful. The surfaces have different materials, each giving a different sensation and awakening the inner child in us all. The numerous table legs function as the movement stops and give the illusion of a block of tree trunks. The importance of nature in the authors' work is reflected in the material selection: solid wood, plywood with marquetry, Valchromat and copper.
Izzi will present Gaff, a table and pouff inspired by the poem 'Vida Garfio' which focuses on love and death as two manifestations of freedom of the soul and the capacity to generate new life. Gaff mimics this idea of growth, from the earth, making use of geometry, starting from linear shapes to reach complex structures. At the base of the pieces, natural materials, marble and wood are used, marking the source of growth. The structures are made of steel cut by CNC laser, with a copper finish.
Carolina Palombo plans to showcase a collection of pendant lights, inspired by 'La Pequeña Llama' or 'The Tiny Flame', the collection will combine natural materials like Totora and burnt wood, the latter of which will be shaped using Uruguayan wood turning techniques. In line with the studio heritage, the new pendants demonstrate craftsmanship and returning to basics.
Finally, Menini Nicola, will showcase a side table and stool crafted by Uruguayan artisans in brick and oak, and featuring long wool sheepskin upholstery. The products will be displayed within a rattan separator. The studio has collaborated with a local potter, carpentry workshop and leather upholsterer from Montevideo, celebrating the core hallmarks of traditional Uruguayan design and expertise.
On this year's installation, Curator Matteo Fogale says: "Being inspired by such an important cultural figure as Juana de Ibarbourou shows that design has much in common with poetry, with each piece telling a story that is as evocative as the poem it represents."
Fogale continues, "with Poetic Forms we seek to promote the identity of Uruguayan design and demonstrate our ability to produce and export quality products and high level professionals. Uruguay has excellent resources in terms of natural materials and very talented artisans, and has managed to find a very distinctive design identity, rediscovering the country's cultural heritage".
This work gives continuity to the effort that the Uruguayan design studios together with the country's investment, export and brand promotion agency, Uruguay XXI and the Uruguayan Design Chamber (CDU) have been making since 2016 at the London Design Festival. All activations to date have also been supported by the Embassy of Uruguay to the United Kingdom.
Last year, a group of studios together with Matteo Fogale presented two very successful exhibitions at the London Festival: 'Invisible Threads', which based its proposal on the work of the Uruguayan modernist architect Julio Vilamajó and the exhibition 'Uruguay, A Natural Collective', a collection of furniture created exclusively with natural materials and traditional techniques, which explored different perspectives of Uruguayan design.
The Uruguayan furniture and design sector is a young industry that has become a core area of growth for the nation. The hallmarks of furniture designed in Uruguay are simplicity and sophistication with a modern and functional character. With a notable concentration of local design talent and access to plentiful manufacturing, the industry has been able to grow beyond its borders, demonstrating international relevance through a series of awards including the Salão Design Award, in São Paulo Brazil, Design Award (in Italy) and Good Design in United States.
The works of all nine design studios will be on show at the London Design Fair from 19 – 22 September, as part of the London Design Festival.
Palabras clave: